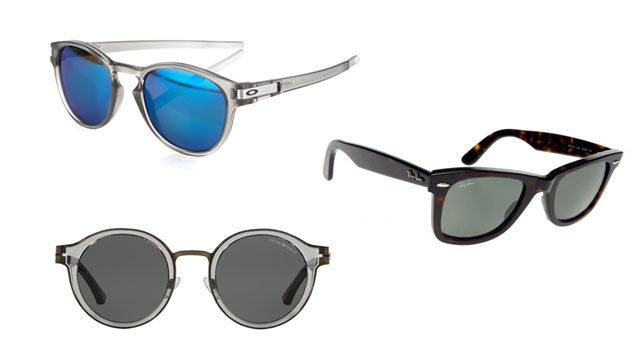 There's just something about a pair of good-looking shades that immediately amps up a man's style game. From timeless classics to next-generation cool, for whether you need to be dressed up in a coat and tie or just wanna hang out in your shorts and jersey, there's a pair to suit every occasion and location (though we beg of you, don't be that guy who thinks it's cool to wear sunglasses indoors). It's just a matter of choosing well, and that means having a collection of essential styles.

Sure, there's nothing wrong with sticking to just one versatile pair of shades, but we firmly believe that variety is the spice of life and all that jazz. And who said only women get to have fun mix and matching their accessories, anyway?

Start off with these 7 essential pairs:

The Wayfarer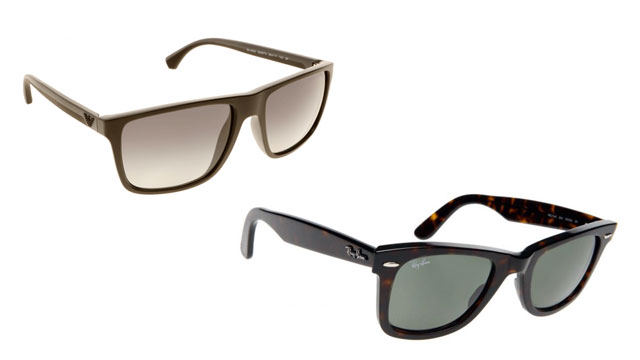 If there's an eyewear style that deserves to be called iconic, then it's the wayfarer. Since it was first produced in the 50's, this OG pair has become an enduring classic that can fit anyone, anywhere, anytime. Just check out the Ray-Ban New Wayfarer (RB 2132), a modern take on the classic style from the same people who made the original possible. Want a sleeker version? Then you can't go wrong with the Emporio Armani EA4033.

The Aviator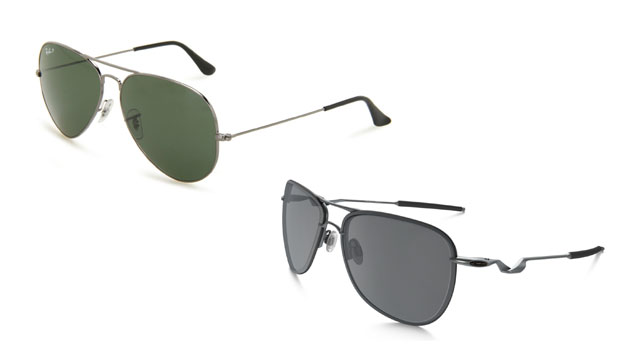 The only other style that can possibly rival the reputation of the wayfarer is the aviator. Not only will wearing this pair add a debonair touch to your look, you get maximum eye protection too thanks to its oversized lenses and teardrop shape. The classic Ray-Ban Aviator (RB3025) immediately comes to mind, but the Oakley Tailpin, with its distinctive stems, is another favorite. Whichever pair you choose, you can be sure that your shades can make you look as good as the leading men of Hollywood.

The Round Frame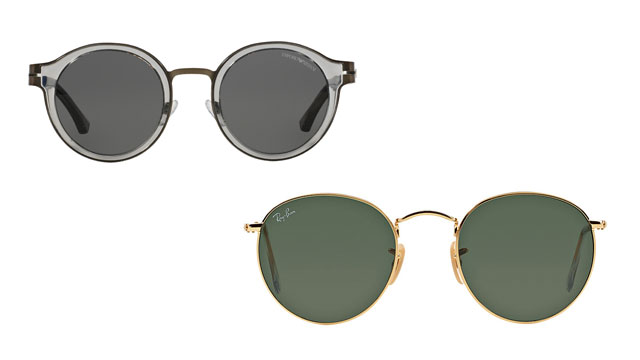 Not everyone dares to try round-framed glasses because it's such a bold fashion statement only a few can pull off. Somehow perfectly straddling the line between quirky and vintage, round shades can make you look like an eccentric, like a rockstar, or like an eccentric rockstar. Pull off John Lennon's signature look with a pair of Ray-Ban Rounds or Emporio Armani EA2029s.

The Clubmaster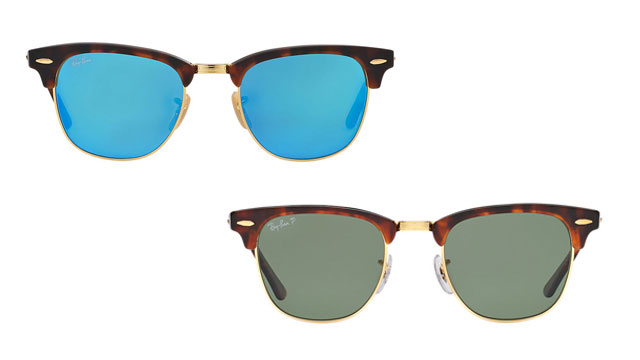 Like the ladies' favorite cat eye shades, the Clubmaster is a classy throwback that still looks trendy today. Since its statement browline instantly gives off retro feels, a pair of Ray-Ban Clubmaster Classics is the perfect add-on to your hip outfit. Feeling brave and bold? Try the Ray-Ban Clubmaster Mirror on for a quirky, vintage flair.

The Double Bridge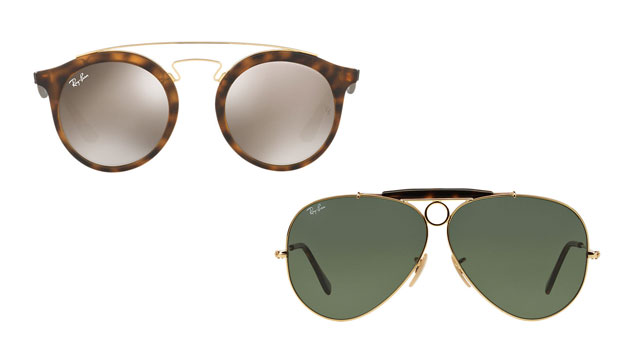 There's just something about a pair of double bridges that can automatically make you look masculine. Perhaps it's the implied stability? How it perfectly frames the ridge of your nose and makes your brow line look broader and manlier like the Ray-Ban Gatsby effortlessly does? Or maybe it's the rebellious vibes of the bullet hole in the Ray-Ban Shooter that makes you reach out for it every time? Whichever the reason, you've got to agree that this one's made with bad boys in mind.

The Keyhole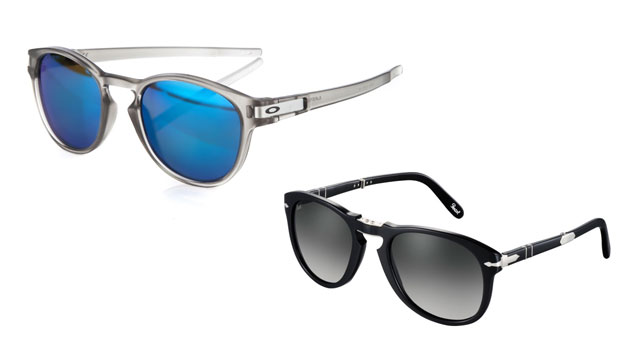 Distinguished by the notch in the bridge of the frame, the keyhole can transform any look from blah to brilliant. A pair of Persol shades was made famous by the late great Steve McQueen, and who better to cop a style from than the King of Cool himself, right? Want something with a more modern twist? Check out the Oakley Latch, which adds a dash of fun to the style's distinguished shape.

The Performance Pair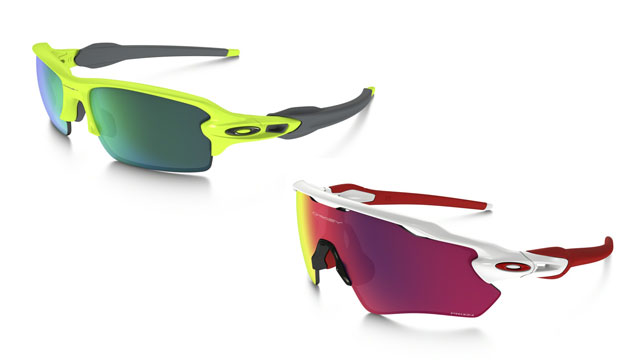 While sports sunglasses were originally designed solely for use during high-performance activities, they've since become popular even for everyday use because there just seems to be an ever-present cool factor about them. Maybe it's the bold colors and unique frames that call to us? Just take a look at these awesome pairs by Oakley, the Radar EV and the Flak, to see what we mean.

Nothing completes a solid get-up quite like a well-chosen pair of sunglasses. Keep in mind though that no matter how stylish you are from the neck down, your eyewear can still make or break a look. Now, if you have all these unwaveringly cool and classic styles in your arsenal, you'll always have the perfect pair for any event thrown your way!

Head on over to Sunglass Haven and get your pick of quality shades from the leading names in the industry, like Ray-Ban, Oakley, and Armani! If you start feeling a bit spoiled for choice and don't know how or where to start your shade-hunting, don't worry: the store is staffed with people who know exactly what they're doing, ready to lead you to your HG pair. Their Breakage Protection Guarantee also sweetens things up: if you somehow damage your pair within one year after you bought them, you get store credit amounting to 50% of the original retail price of your purchase, which you can then use to buy a new pair of shades. And while you're there, you might as well join their VIP Club so you can enjoy exclusive promos and discounts. Talk about making your shopping experience worthwhile!

Like Sunglass Haven on Facebook to learn more.