You've done the legwork and managed to ask your ladylove out to catch a flick. And guess what? She said yes.

Even better: She agreed to have it at your house! The world is truly your oyster, my friend, and the feeling of moving mountains is strong within you. You're now in a prime spot for either a great finish or a crash-and-burn. But your journey is only halfway through, and it's in your hands to pull-off the best binge watching date of her life.

To get to the big finale, you need to set the proper groundwork. Setting the mood, having the proper demeanor, and choosing the right show will create a positive impression that will go a long way.

We've got you, bro. Follow these simple do's and don'ts and you'll be forever etched in her memory—in a good way, too! A possible second date in the making? Yeah, man, you've got this.

Step #1: Getting Ready

Do: Wear something nice. She's going to be scrutinizing your physical appearance, and will silently judge the way you dress. She'll never admit it, but this is what's going through her head.

Don't: Go in gym/sports/active wear. Even if your "Swingman" Steph Curry jersey is autographed and imported from the states, you aren't going to a basketball game. Dress appropriately. It's a first date, man. Save the sando't tsinelas for when you're going steady.


Brando pulled it off. But you aren't Brando, so...
Do: Shower. Cut your fingernails. Brush your teeth. These are non-negotiables and do not require any further explanation.

Don't: See above.


Big Diesel knows the drill
Do: Clean up. Your pad is a reflection of your personality. Dispose of empty beer bottles, sweep a bit, spray some room deodorizer, clean your couch, make your bathroom presentable. You know the drill.

Don't: Offer to use your place when it looks like a rhino in heat just stomped through it.


What your pad SHOULDN'T look like
Do: Pick her up from wherever she is. Even if she's from Alabang and you're from Caloocan. Even if you don't have a car. Even if Ragnarok is upon us. It's a simple gesture she'll totally appreciate.

Don't: Be late and keep her waiting. Stash away your "ang traffic kasi" excuse; it's no good, buddy. You don't want to kick-off the date like this.


Ah, but they'll never admit it...

Step #2: While Watching

Do: Mind the "touch barrier." Meaning: if she doesn't display any hints that she wants physical contact, hold out. Be patient, young padawan.

Don't: Be all grope-y and touchy. Scary shows might be an excuse to get close, yes, but only if she comes close first.


Mind your gaze, too, buddy
Do: Keep the conversation to a minimum while there's action on-screen.

Don't: Give a live commentary throughout the entire show. Major turn off right there.


Halfway through The Sixth Sense, he tells her Bruce Willis is actually a ghost
Do: Agree on something to watch, that both of you will enjoy. It's a practice in decision making and compromise—things you'll need down the line if you end up together.

Don't: Argue over what to watch. This can only spell disaster, and you can basically kiss your chances at a second date goodbye.


Avoid confusing head and neck action

But when it comes to choosing what to watch, a real man will be gallant and let his lady make the decision. Whether it's a rom-com like 27 Dresses or a conspiracy series like Mr. Robot, you should be down to watch anything, simply because you respect her choices.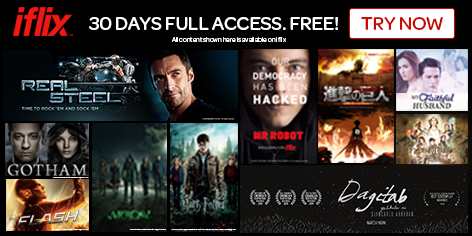 Subscribe to iflix and give your lady thousands of titles to choose from on your next binge watching date at home. For only P1,308 a year (or P109 a month,) you can stream tens of thousands of hours of TV shows & movies on your phone, laptop, tablet, or TV— wherever, whenever. And with the new Download & Watch Offline feature, you can take your favorite TV shows & movies on a picnic, on a road trip, or whenever you and your woman just wanna chill and catch a flick.

There you go, sir. Take entertainment with your girl to the next level with iflix and remember these friendly Do's and Don'ts to make the experience truly unforgettable.

Sign up for a 30-day full access free trial today at iflix.com!

Gifs via giphy.com