There's this tito joke that answers this question. Three-piece packs are for newbies who get into it three times a week. Six-piece packs for aggressive young men who do it six times a week. Twelve-piece packs for married men – who drain their pipes – once a month.

Many good things come in threes: musical artists, movie trilogies, comedic trios. So, are condoms just blindly following this magic formula? Not actually, there are legit reasons why condoms are sold in threes – from health reasons to practicality.
Why not just one?

Why not just one? Because you always need a backup. Even if you're not the unli-pops type, having a safety piece or two is important.  If you think that condoms can stay on your willy for hours, you're wrong. According to the United Kingdom's National Health Services (NHS), when doing some endurance sex, you must change condoms every 30 minutes. Extended use of condom can weaken it, making it more likely to break.

It's better to be safe when horny
Fill up your arsenal of protection. LoveYourself, Inc., an NGO advocating HIV awareness and testing in the country, advises that when you make the mistake of rolling down the condom inside out, it is best to get another one because you may have unknowingly put precum on it. Also, if it comes off during the deed, get another one, don't gamble.

Use one for each hole

Another life pro tip: if you're in to the three-hole escapade (vagina, anus, mouth), use one for each hole. Well, aside from the obvious hygienic reasons, it is for your safety against possible STIs. Gentlemen, you have to respect the sanctity and sensitivity of each orifice! In a nutshell, more condoms means less chances of interrupted safe banging.

But Why Stop at 3?

See, there are good reasons why condoms usually come in threes. But come to think of it, why stop at 3? No one should be enslaved by the rule of the usual, boring three. Make the love-making last longer.  Life's too short to settle for just three, which is why there's a need for a ground-breaking condom brand that will challenge the status quo and give a new perspective to Filpinos' appetite and resilience in bed.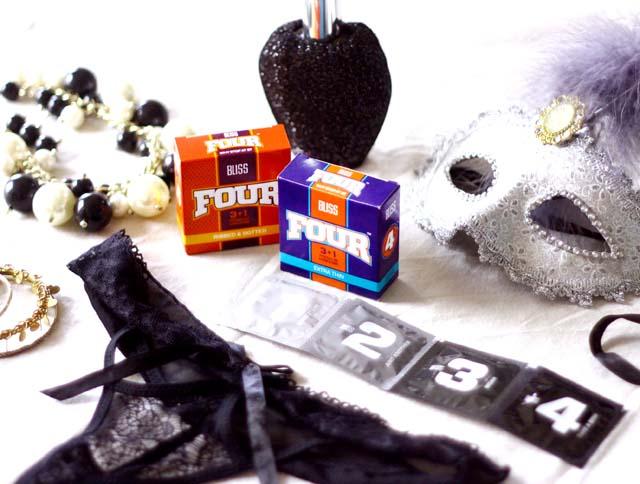 Four sounds great? Four sounds awesome! Bliss Four Premium Condoms is the world's first four-piece condom pack. Made with the highest quality latex and comes in extra thin, and ribbed and dotted variants, this brand gives us a legit reason to go for more.


If you're ready to take your sex life a notch higher, note that Bliss Four condoms are available at 7-Eleven, Family Mart, Circle K, and Lazada. Also, take advantage of Bliss Four samplers thru Lazada. Get things going – just buy any Bliss Pleasure Condoms and Lubricants and you'll get Bliss Four freebies in your package! Do it fast though because this promo only runs until supplies last. If you're craving for more info about this revolutionary condom line, hit whystopat3.com.