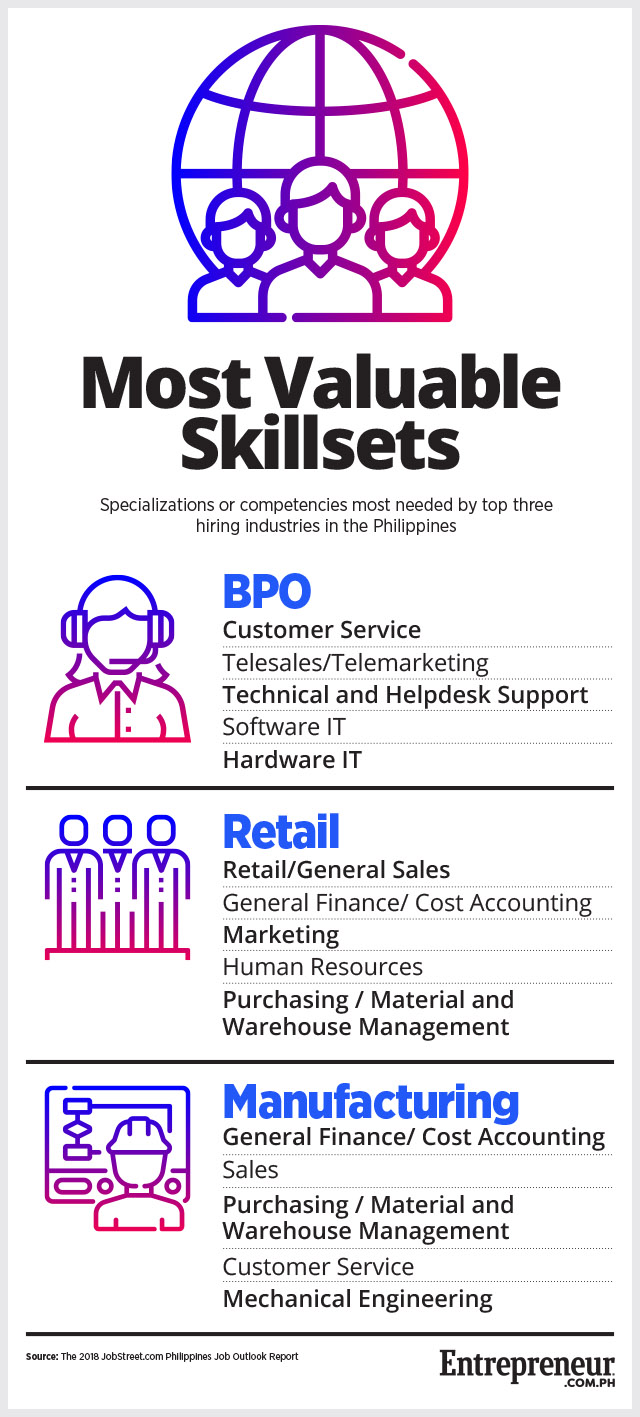 Business process outsourcing (BPO) providers remain the country's biggest employer of new hires but jobs needed by the industry are not what they used to be.
"The BPO industry in particular is not only just looking for customer service representatives now—while they do have a big demand for it—they're also looking for other specializations now too, like finance and engineering," JobStreet.com Philippines Marketing Manager Cielo Javier said.
Based on the "2018 JobStreet.com Philippines Job Outlook Report" released on Tuesday, February 27, companies from the BPO industry posted the most number of openings in the job marketplace platform from October 2017 to December 2017 while companies under retail and manufacturing industries were ranked second and third top employers. Total number of job openings grew 14 percent from 2016 to 2017.
Across the top three hiring industries, sales, customer service and IT specialists were found to be the most in demand.
The uptick in hiring activities will continue for the rest of 2018 as around 95 percent of employer respondents said they would be active in the job market, 60 percent of whom revealed they are expanding operations. Most of the hiring would happen in the first half of the year, specifically between March and June. 
With an active job market, it is unsurprising then that both local employers and talents were found to have an optimistic outlook in their hiring and job search activities. Employers averaged a 5.01 rating for their optimism outlook with seven as the highest. This is around 0.2 points higher than last year's 4.83 rating. Meanwhile, job candidates had an average rating of 4.68 rating, a bit lower than last year's 4.87.
The findings were based on a survey conducted by JobStreet.com in January 2018, covering 293 company representatives, 75 percent of whom are from small and medium enterprises; and 575 employees, majority of whom are supervisors and junior executives.
The hiring boom is matched by an active job seeking market, as 88 percent of the employees in the survey said they are looking for jobs this year. Still, even with the abundance of job opportunities, talents expect tougher competition.
"Based on our survey, most candidates are aware that there are many job opportunities available. However, they also feel that getting hired will be more difficult as new types of skills are also demanded from them," Javier added.
The JobStreet.com executive reminded the public that the outlook only represents the clients they have in the platform and may not entirely capture the whole job market.
According to the latest labor force survey of the Philippine Statistics Authority, the number of unemployed in the country hit 2.4 million in 2017, a majority of whom belonged to the 34-years-old and below age bracket.
This story originally appeared on
Entrepreneur.com.ph
. Minor edits have been made by the Fhm.com.ph editors.