Real men drive trucks. Everyone knows that. But why? We got together with some real men to find out, by asking: Why did you pick a pick-up?

They're rugged

"Simplicity and Utility, pare." - Nico, Enthusiast

"I needed something simple and tough. My profession brings me to many different locations." - Christian, Photographer

"It's reliable, like a beast of burden. Tough and always ready for the rough stuff." - Ronald - Video Production

"I picked the Strada because it was the most affordable option with a front differential. It has made it through the goopiest mud Batangas has to offer." - John, Farm-owner

The Strada boasts go-anywhere goodness. Whether four-wheel drive or rear-wheel drive, the Strada's generous ground clearance and suspension travel allow it to tackle the roughest terrain. And when you opt for four-wheel drive, you gain the traction to pull you out of the stickiest situations.

They're great for hauling stuff

"The pick-up is an all-in-one vehicle. You can load things such as sacks of soil, sand, massive rocks, refrigerators, et cetera, that you can't load in an ordinary car. We've used this truck for our catering business, traveling from Baguio to Manila every week. " - Gabriel, Businessman

"Many times I have had to use it to bring stuff to our numerous project sites." - Ogie, Contractor

"For me, you can load dirty things in the back without worrying about the interior." -Nico, Enthusiast

The new Strada boasts a larger bed than its predecessor, and is built for utility. Things you would be afraid to pile into the back of your car or in the trunk of your SUV can be hauled in the rugged and washable bed out back.

They can do double duty as family cars

"Of all the pick-ups I've tried, the Strada is tops in terms of riding comfort." - Ogie

"The Strada is utilitarian. I can carry a bunch of people and still have a ton (literally) of load space in the back." - John

"I bought it for its functionality. Combined people-carrier and hauler." - Ogie

The Strada has always been known for its car-like riding comfort. And the latest generation truck, despite boasting a larger cargo bed and capacity, remains true to that reputation. Paired with a large cabin with generous legroom all-around, it's a viable alternative to a family sedan.

They're stylish

"Overall, the Strada gives the most value for money. And the unique styling!" - Ogie

"The Strada looks like a spaceship on steroids!" - Marc, Marketing

The Strada looks like nothing else on the road. The futuristic styling stands out in a sea of conservatively styled, boxy competitors.

And economical

"It sips diesel like it's on a diet, making it a good daily driver." - Gabriel

"You can't go wrong with a diesel. Better fuel economy AND cheaper than gasoline? It's a no-brainer. And the new MIVEC engine is much more economical." - Marc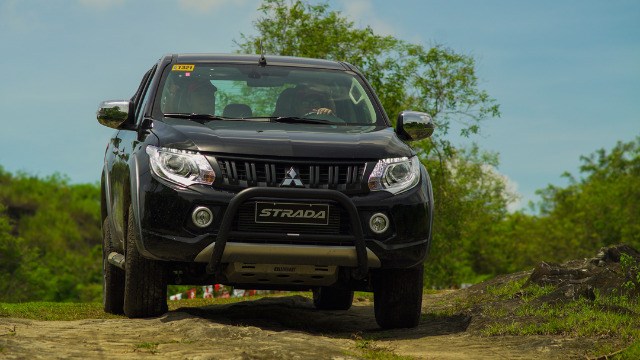 The Strada's new 2.4 liter MIVEC diesel isn't just powerful, variable valve timing gives it a smoother powerband than ever before, and allows it to use fuel parsimoniously on those long, long drives.

For the real man, there's nothing that fulfills his needs quite like a pick-up truck. And there's no other pick-up on the market quite like the Strada. Advanced design and technology, sleek styling, car-like comfort and utilitarian ruggedness, all in one package. 

For more information on the Mitsubishi Strada, visit Mitsubishi's webpage.