Whether it's for a first date or your nth anniversary, you can go on a romantic date without burning a hole through your pocket. These restaurants prove that a swoon-worthy ambience and unforgettably tasty food doesn't have to cost much—you might even end up coming back for second or third dates.
1) Flossom Kitchen + Cafe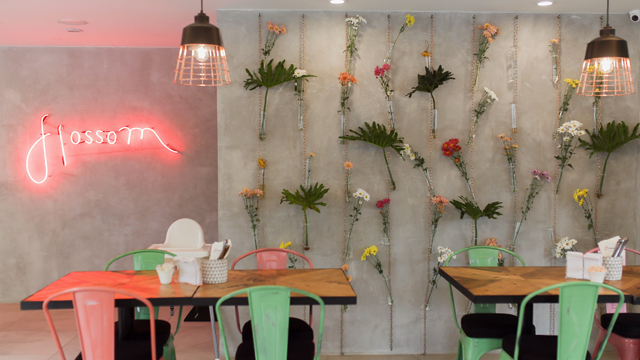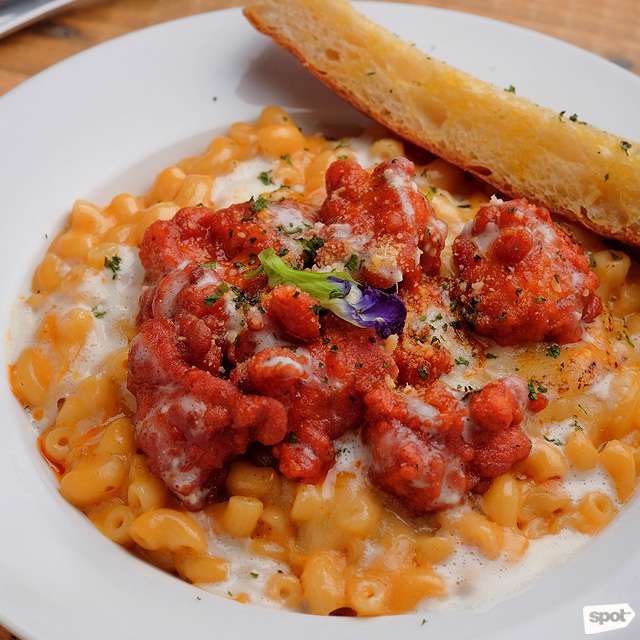 You can bring your date a bouquet of fresh flowers, or you can take them to Flossom Kitchen + Cafe instead. This garden-inspired restaurant boasts a "flower wall," with rows and rows of fresh flowers they change weekly. With a sumptuous all-day breakfast menu, Flossom is perfect for brunch dates. The Ube Champorado is a novel twist on the traditional Filipino breakfast fare, with the nuttiness of ube pairing well with the salty dilis and sweet yema sauce. Another fresh take on a classic is the Buffalo Mac & Cheese, with Buffalo chicken tenders adding spice and that distinct vinegary tang to creamy macaroni and cheese. If you prefer a little more privacy, they also have a secluded "glass house," or a section partitioned off from the rest of the space with glass walls.
Sample Order: Ube Champorado (P280) or Truffle and Egg (P300), Buffalo Mac & Cheese (P320), Tiramisu (P150)
Total: P750-P770
Flossom Kitchen + Cafe is at G/F Flossom Place, N. Averilla Street, San Juan City.
2) IKOMAI & TOCHI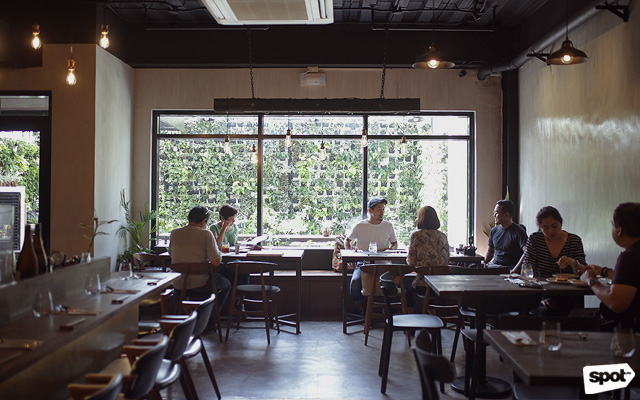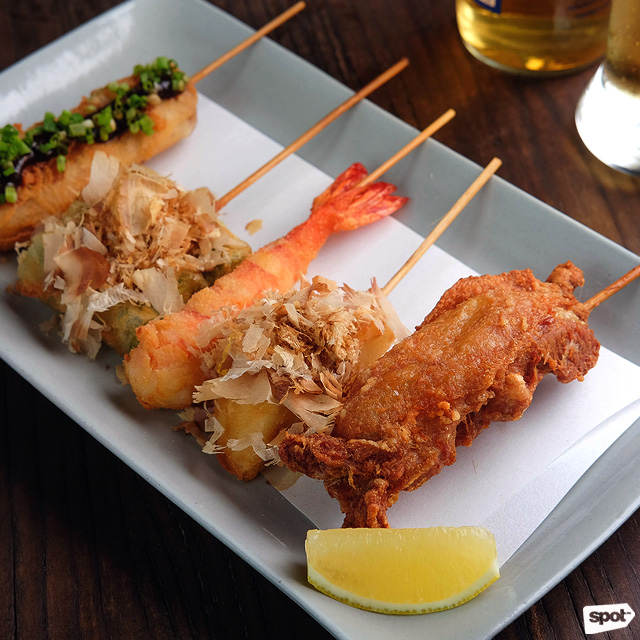 A lush pocket garden adds a touch of romance to the minimalist decor of this Japanese restaurant at Salcedo Village. The specialty of head chef Hide Saeki is Japanese street food, which makes IKOMAI & TOCHI great for laid-back dates. The elegantly plated Moriawase, with crispy-fried chicken karaage, okra, pork, and shrimp, can be split between two. Not to be missed as well is the Ikomai Taco—this taco-sushi fusion replaces the typical Mexican tortilla with a deep-fried nori, and is stuffed with the usual sushi fillings like tuna, salmon, shrimp, or roe. The resulting play on textures and flavors isn't something you'll forget any time soon.
Sample Order: Moriawase (P450), Ikomai Taco (P180/tuna, P200/salmon, P220/shrimp), Bavarian Lychee (P180), Chocolate Symphony (P180)
Total: P990 - P1,410
IKOMAI & TOCHI is at G/F ACI Group Building, 147 H.V. Dela Costa Street, Salcedo Village, Makati City.
3) Persephone Seasonal Kitchen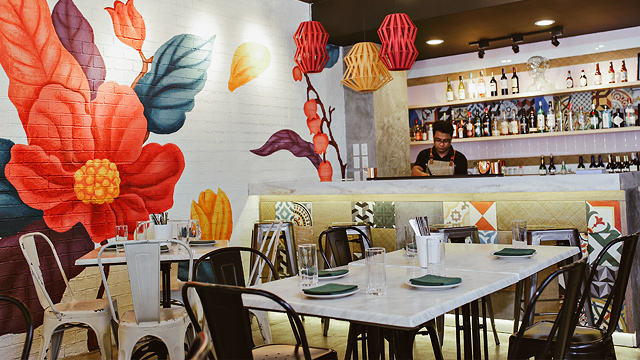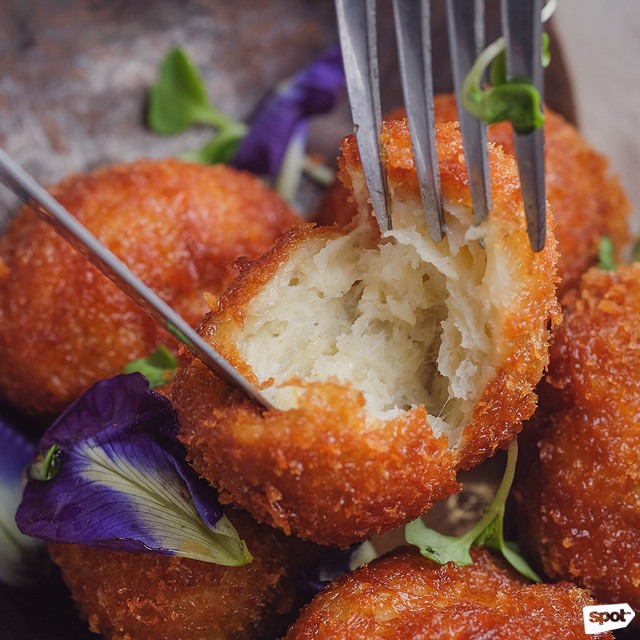 Persephone could be one of the prettiest restaurants in Makati, with their vibrant interiors inspired by the goddess of spring and harvest they're named after. A seasonal kitchen means the menu varies depending on what's fresh and in-season, but one thing's for sure: Whatever you order is bound to be delicious. Their crisp-on-the-outside, velvety-on-the-inside Fishballs could be the prettiest take on Filipino street food you'll ever see, and the Korean bibimbap-inspired Tapsilog is a symphony of flavors you shouldn't miss. Plus, the ever-changing menu is just the perfect excuse to go on a second and third date.
Sample Order: Fishballs (P180), Tapsilog (P310), Miso Glazed Salmon (P420)
Total: P910-P1,410
Persephone Seasonal Kitchen is at 120 Jupiter Street, Barangay Bel-Air, Makati City.
4) St. Louis Home of Fine Ice Cream and Dessert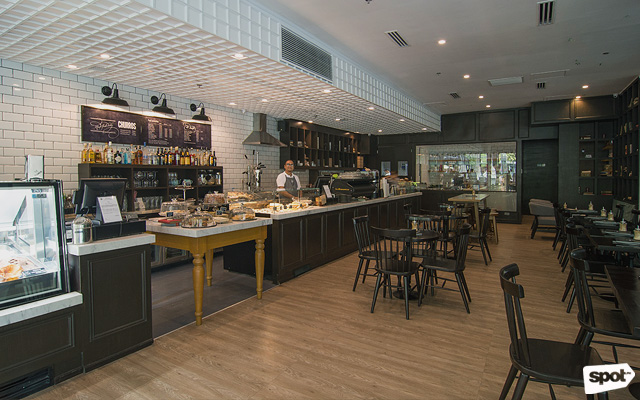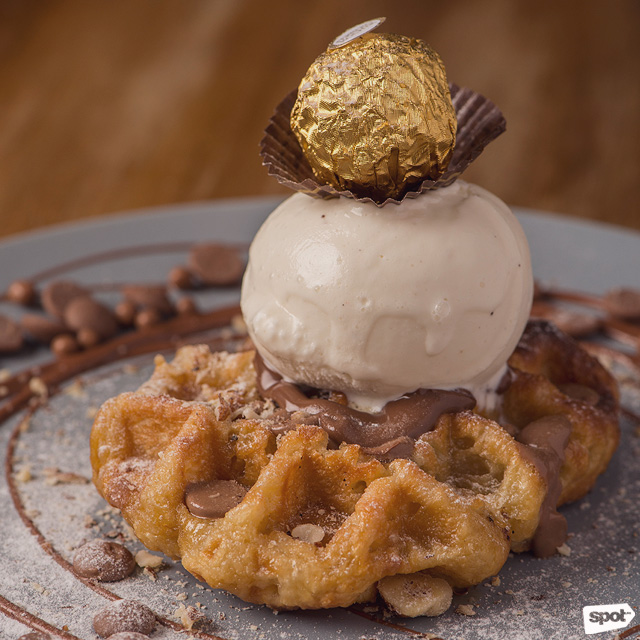 It doesn't get more classic than an ice-cream date, and with "fine" in their name, you can be sure you can't go wrong with St. Louis' ice cream. What's even better is you can fill up first on their savory selections before sharing a sundae. From the lunch menu, the Chicken, Mushrooms, Spinach And Cheese Crepe is a standout with a buttery crepe stuffed with a tasty blend of chicken, mushrooms, fresh spinach and cheese that makes every bite extra rich. If you and your date both have a sweet tooth, St. Louis also has you covered with an extensive dessert menu: The crisp yet also unbelievably light churros, one of the best in Manila, is a must-try.
Sample Order: Chicken, Mushrooms, Spinach And Cheese Crepe (P380), Croque Monsieur (P370), Churros (P350/six pieces) or Ferrero Waffle (P380)
Total: P1,130
St. Louis Home of Fine Ice Cream and Dessert is at Unit C3-104, Bonifacio High Street, Bonifacio Global City.
5) Tomatito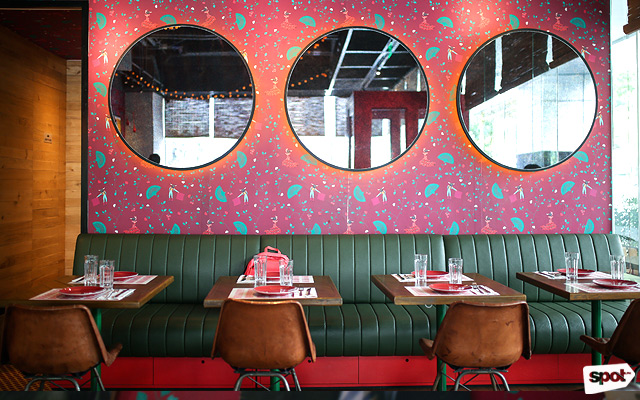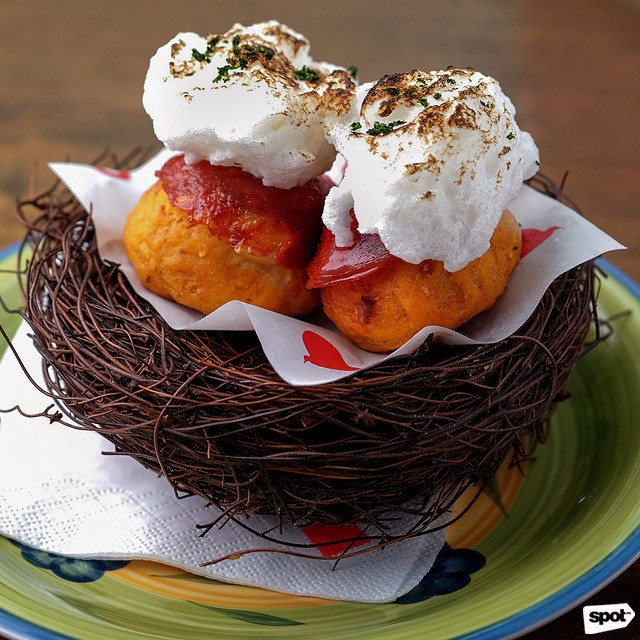 Bright neon lights, colorful wallpaper, and an over all funky vibe make Tomatito the place to take your date out on a fun night over some sangria and tapas. Tapas are meant to be shared, so go ahead and order several to munch on over drinks and conversation. The Chicharron y Salmon is a delicious play on contrasting textures and flavors, with a crunchy pork chicharon topped with velvety, smoky salmon. You might end up finishing it all way too quickly with how tasty these are, but it's an excuse to order more!
Sample Order: Chicharron y Salmon (P490), Croquetas de Chorizo y Jamon Iberico (P215), EL NIDO (P245), Tinto de Verano (P140), Fino Tio Pepe (P250)
Total: P1,340
Tomatito is at 30th Street corner 11th Avenue, Bonifacio Global City.
6) Whitebrass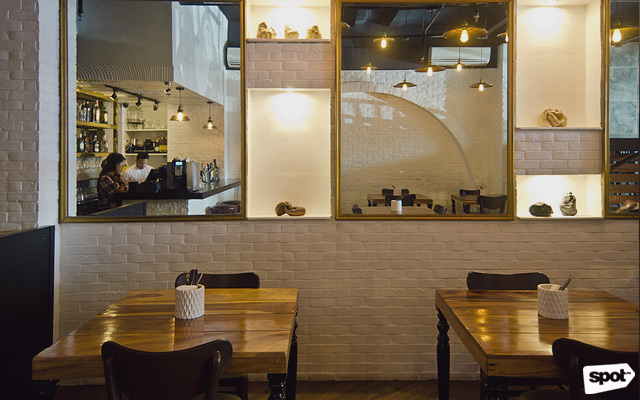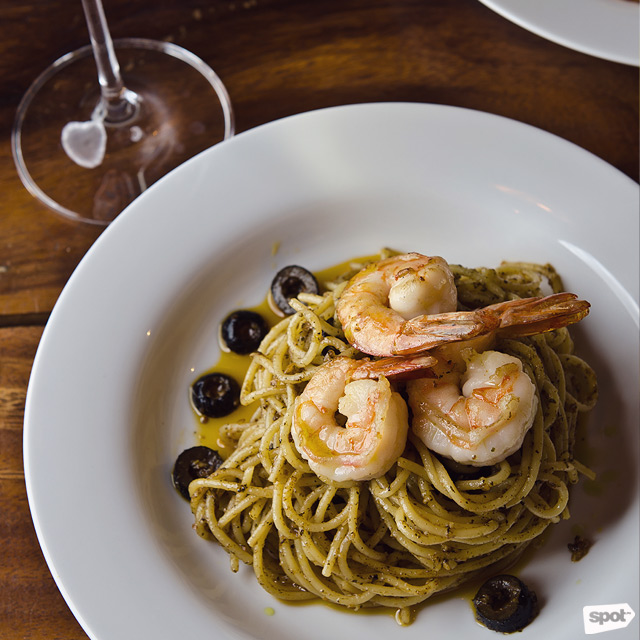 Can't decide where to go, and your S.O. isn't making things easier? Italian food is always a sure-fire hit, especially if you're having it at Whitebrass. The space balances sophistication and coziness effortlessly, and the same can be said of the food. Dishes are plated so beautifully you almost regret digging in, and the flavors are rich and comforting, the way great Italian food should be. Chef Rip David doesn't hold back on the truffle in the Risotto Parme-Tartuffo, resulting in a plate that's almost obscenely luxurious. For flavors that are a little more understated but still divine, have the Shrimp and Olives pasta, with the brine of the olives balanced out by sweet bites of shrimp.
Sample Order: Risotto Parme-Tartuffo (P360), Shrimp and Olives (P275), Quattro Formaggi (P350), Granola Crusted Cheesecake Brulee (P210)
Total: P1,195
Whitebrass is at 20 Jupiter Street, Barangay Bel-Air, Makati City.
7) Le Jardin Cafe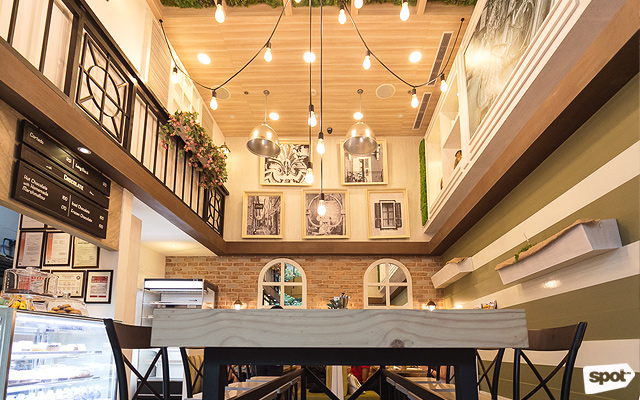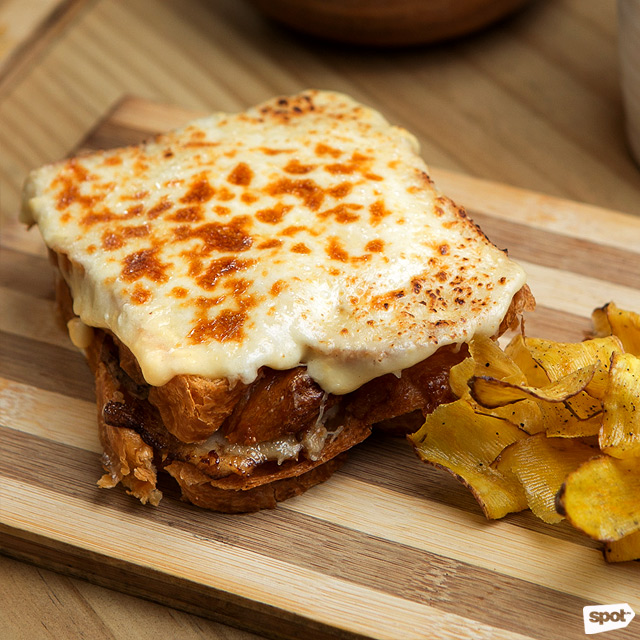 High ceilings, homey brick-and-wood-heavy interiors, and abundant flowers give Le Jardin Cafe a soft romantic vibe. The food is just as fresh, but not light on flavor: The Croque Monsieur is full of cheesy goodness and is made with pillowy soft bread (which they make in-house), that pairs well with the smoky ham. Also tasty is the Iberian Chicken, with chicken cooked in its own juices plus garlic, herbs, and potatoes and rosemary-jasmine rice.
Sample Order: Le Jardin Signature Kale and Quinoa Salad (P290), Iberian Chicken (P330), Croque Monsieur (P320)
Total: P940
Le Jardin Cafe is at G/F Bonifacio Stopover Corporate Center, 31st Street corner 2nd Avenue, Bonifacio Global City.
8) Hibana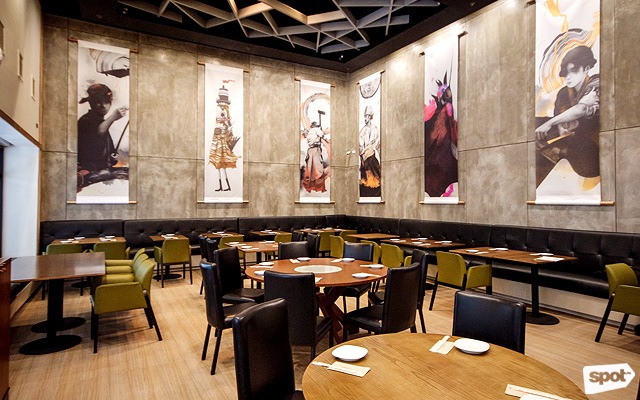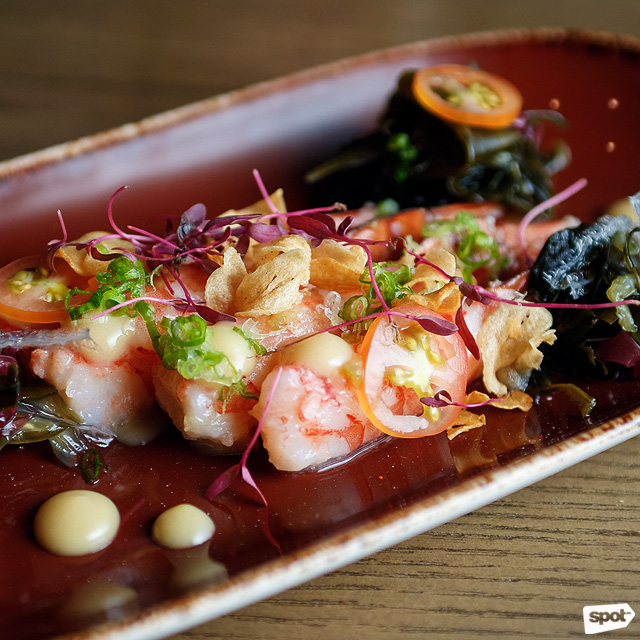 Chic yet cozy interiors and elegantly plated dishes—Hibana is the place for date nights that are sure to impress. It helps that Chef Mark Tan whips up incredibly tasty Japanese dishes to which he adds his own unique touch. His specialty is seafood, which he only gets fresh from Japan. Just from the name, you know the Chilled Miso Butter-Poached Prawns will make your mouth water—and yes, it's every bit as good as it sounds.
Sample Order: Chilled Miso Butter-Poached Prawns (P295), Iberico Tonkatsu (P595), U.S. Short Rib Yakiniku (P270), Coffee Layered Cake (P225)
Total: P1,385
Hibana is at G/F The Grand Midori, Bolanos Street, Makati City.
9) Bistro Madrid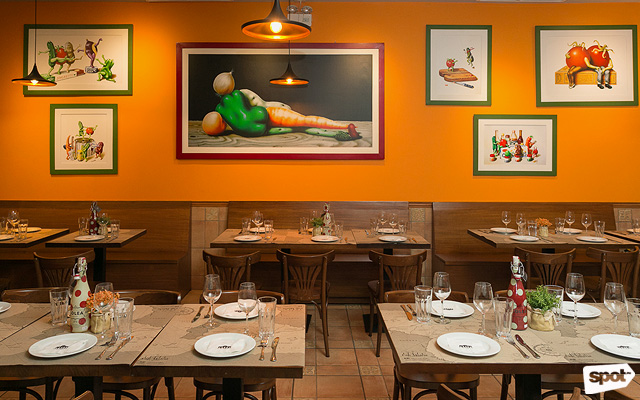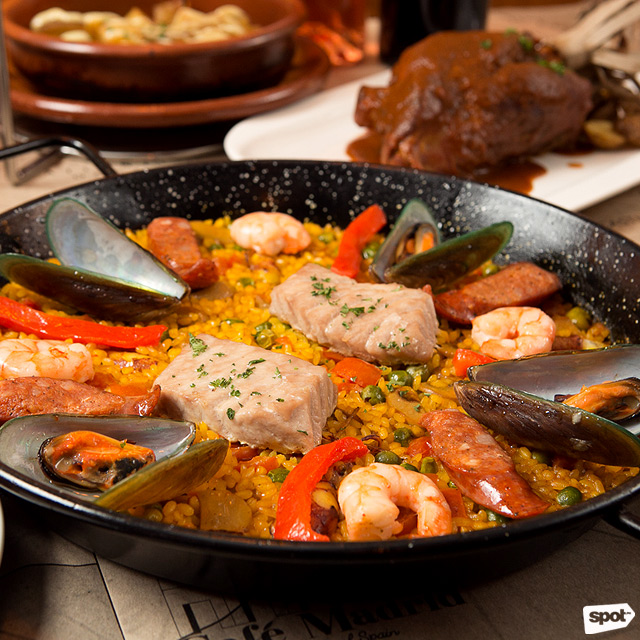 While you're saving up for that sunlit al-fresco date in Spain, Bistro Madrid can be the next best thing. Burnt orange interiors give the place a warm vibe, and Chef Juan Carlos "JC" de Terry whips up fine cuisine from all the regions of Spain. Don't miss Chef JC's take on the paella, the Bistro Madrid Gran Paella, with Bahia rice cooked in a deep saffron-stock broth and topped with chorizo, vegetables, and locally sourced seafood. Plus, the hefty size makes it easily shareable between two.
Sample Order: Oxtail Fabada (P480), Bistro Madrid Gran Paella (P650), Mantecado Helado con Cabello de Angel (P240)
Total: P1,370
Bistro Madrid is at G/F Estancia Mall, Capitol Commons, Meralco Avenue corner Shaw Boulevard, Oranbo, Pasig City.
10) Balestier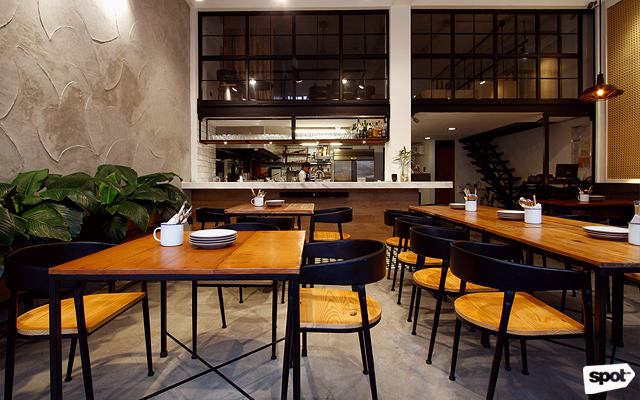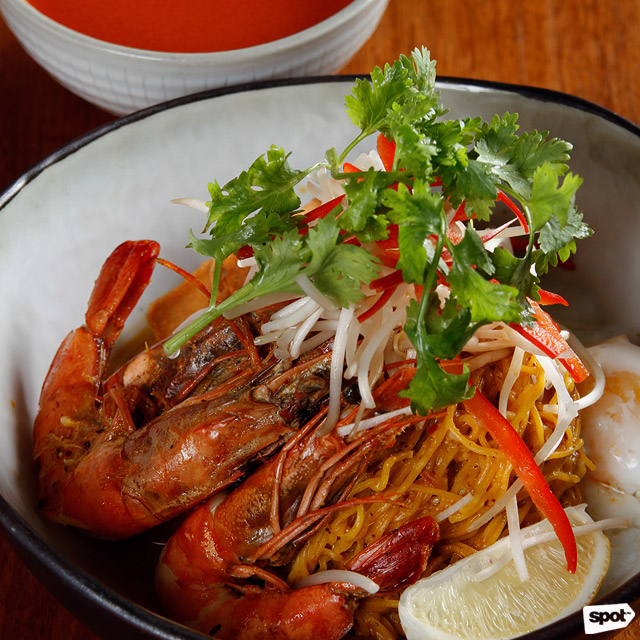 The minimalist, streamlined interiors of Balestier make this Marikina restaurant one of the best-designed restaurants in Manila. It almost evokes the sophistication of a fine-dining resto, without the steep price tag that usually comes with it. The food is just as elegant, and while not exactly fusion, they're pretty out-of-the-box takes on the usual Asian fare. Their laksa is soup-less; serving this dish tsukemen-style lets you appreciate every component on its own, and then all togetherâthe noodles remain firm with just the right bite, and the thick spicy broth is warm and soothing. Another must-try is their take on the risotto: The Bak Kut Teh Risotto is heady with the strong earthy flavor of bak kut teh, yet pairs well with the creamy risotto, tender pork chunks, and mushroom.
Sample Order: Hakaw (P135), Bak Kut Teh Risotto (P355), Laksa Tsukemen (P375), Taro Cheesecake (P205)
Total: P1,070
Balestier is at 14 Nicanor Roxas Street, Barangay San Roque, Marikina City.
This story originally appeared on
Spot.ph
. Minor edits have been made by the Fhm.com.ph editors.