Trinoma may have gone through a lot of facelifts and renovations over the past few years, but it seems that some things never change, like the mall's wide array of dining choices. Want ramen? They have it. Sisig? Yup. Buttery crepes? Sure do. The mall's so huge, it'd be impossible to run out of options. So, before you head over to Trinoma, here's a handy guide to all the great places to eat whenever you're in the mall.
Hanamaruken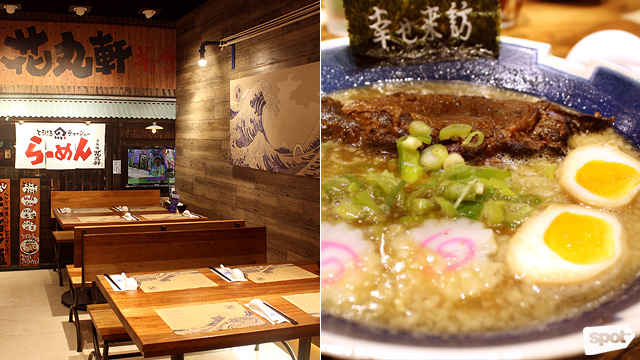 Those hankering for a quick ramen fix at Trinoma won't be disappointed because there's Hanamaruken. This Japanese joint from Osaka boasts hot, comforting bowls of "happiness"—their Signature Happiness Bowl is a glorious mix of shoyu and tonkotsu broths, making each sip burst with umami goodness. They've also got rice bowls to fit any mood, though we recommend the Drunk Man Rice Bowl, which comes with braised pork chunks and a runny fried egg. Hammered or not, you'll thank us later.
Hanamaruken is at 2/F Trinoma Mall, Bagong Pag-Asa, Quezon City.

Katsu Sora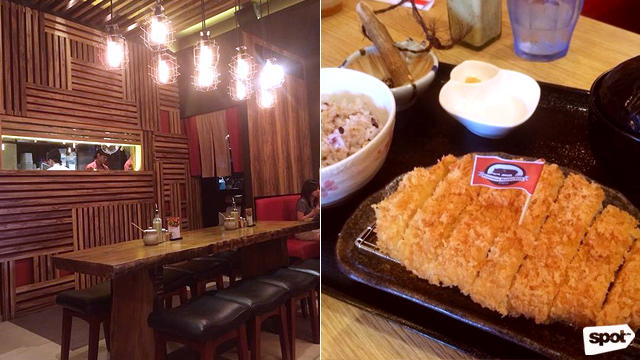 Katsu Sora will be your savior if you're craving sinfully deep-fried eats (hey, we've all been there). And they're not just serving up ordinary Japanese-style pork cutlets here, but high-quality Kurobuta pork. Flaunting juicy and fork-tender meat is their Iberico Pork Katsu Set, which comes with a golden hunk of marbled, breaded pork with salad and rice. It's so good that it made it to Spot.ph's Top 10 Tonkatsu list. Don't forget to douse it in Katsu Sora's signature dark sauce to add a zesty kick.
Katsu Sora is at 4/F Trinoma Mall, Bagong Pag-Asa, Quezon City.

Manam Express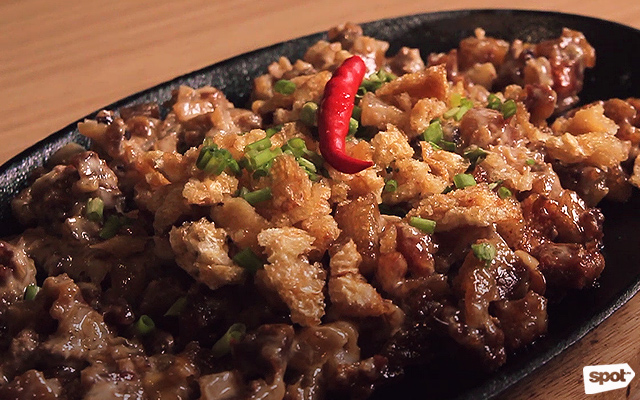 Who hasn't heard of the famed House Crispy Sisig at Manam? Well, luck might be on your side because you don't have to go all the way south of the Metro to have it, thanks to Manam Express. This little stall at Trinoma's food court promises big flavors, and they've got plenty of their restaurant specials on offer here, like the Watermelon Beef Sinigang, Gising-Gising, and Tinapa Rice. For less than P150, you can get a complete meal with your choice of rice, protein, and veggies or pancit. Talk about bang for your buck.
Manam Express is at Food Choices, 2/F Trinoma Mall, Bagong Pag-Asa, Quezon City.

Wee Nam Kee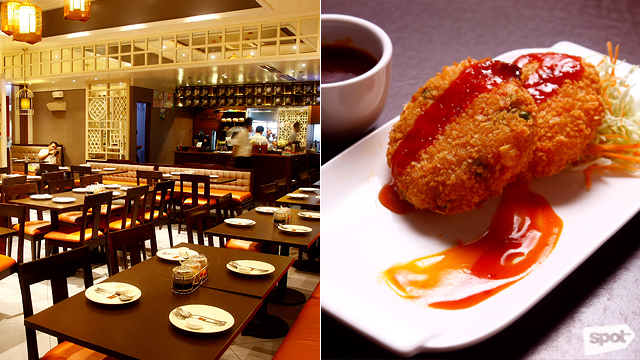 Missing that seat sale to Singapore might be a total bummer, but at least there's Wee Nam Kee to sate your crazy chicken-rice cravings, albeit temporarily. One of their signature dishes is the Steamed Hainanese Yellow Chicken, considered as the Kobe beef of poultry. Its rich flavor seeps down to the bones, making each bite a blessing to the taste buds. For maximum enjoyment, it's best eaten with the Wee Nam Kee Chicken Rice and their thirst-quenching Fresh Barley Juice on the side.
Wee Nam Kee is at 4/F Trinoma Mall, Bagong Pag-Asa, Quezon City.

Ma Chicken Mami House
Some people might find it odd to see a chicken-noodle shop right smack in the middle of the cinemas, specifically in between popcorn and hot dog stands. But Trinoma regulars know for a fact that this is one of the mall's oldest establishments—it's practically an institution. Ma Chicken Mami House's menu is brief and simple, serving only the basics of dim sum like siomai, siopao, and kikiam. Their signature Ma's Binondo Mami has everything you could possibly want in your hot-noodle soup: Egg, bokchoy, steamed dumplings, and slivers of tender beef. Next time you're looking for a belly-warming meal before watching a movie, you know where to go.
Ma Chicken Mami House is at 4/F Trinoma Mall, Bagong Pag-Asa, Quezon City.

Recipes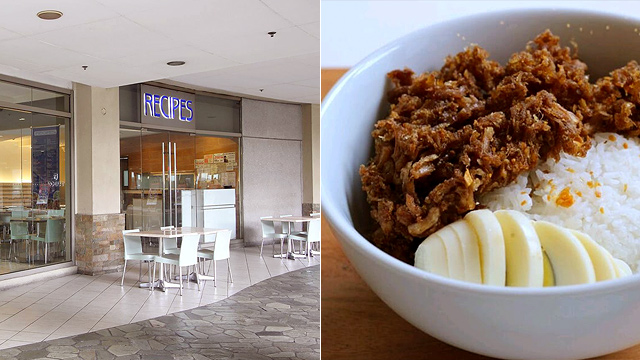 Recipes is one of those restaurants you'd want to keep for yourself for its low-key appeal. The restaurant is casual and ever-reliable for when home-style Pinoy-food cravings start kicking in. Their comforting Pork Adobo Flakes with Egg rice topping is a perpetual crowd pleaser, while the General's Chicken is for those wanting something out-of-the-box, with fried chicken and grilled eggplant coated in a tasty sweet marinade.
Recipes is at 2/F Trinoma Mall, Bagong Pag-Asa, Quezon City.

Cafe Breton
Call the tita and tito squad—Cafe Breton is the perfect hideout for intimate gatherings over some sweet desserts and coffee. The place is also great for dates, whether it's with your mom or significant other. Their wide selection of French crepes is impressive, but if we were to choose only one, we'd recommend a simple classic: The Butter and Sugar Crepe with Lemon. The citrus' acidity cuts through the sweetness of the crepe and balances everything out. But if sweets are your thing, they've also got a whole page of ice cream-based confections and milkshakes.
Cafe Breton is at 4/F Trinoma Mall, Bagong Pag-Asa, Quezon City.

Shi Lin
Can't get over your last Taiwan trip? Shi Lin might just be the place to cure your hangover—or make it even worse. The restaurant doesn't scrimp on quality ingredients, so you know you're in good hands. Don't leave without ordering their Original Xiao Long Bao, which is one of the best in the Metro. When you're feeling a tad bit adventurous, go for the Truffle and Pork variant, which doesn't exactly taste traditional, but still a worthwhile, treat-yourself kind of snack.
Shi Lin is at 4/F Trinoma Mall, Bagong Pag-Asa, Quezon City.

K-Pub BBQ
Long before trendy Korean-barbecue joints started popping up all over the Metro, there was K-Pub BBQ to introduce curious diners about Korean cuisine. The K-Pop-themed restaurant's "Eat & Run" concept allows you to have a meat-all-you-can feast, but there's a catch: Your unlimited refills will only last an hour! With their high-quality choice cuts like pork belly, beef sukiyaki, and Korean-style bacon, we're sure it'll be worth it. If you aren't pressed for time, they also have a "No Limits" option where you can linger longer, grill all the meat you can handle, and enjoy the restaurant's lively ambience—their big-screen TVs play K-Pop music videos non-stop!
K-Pub BBQ is at 3/F Trinoma Mall, Bagong Pag-Asa, Quezon City.

Cyma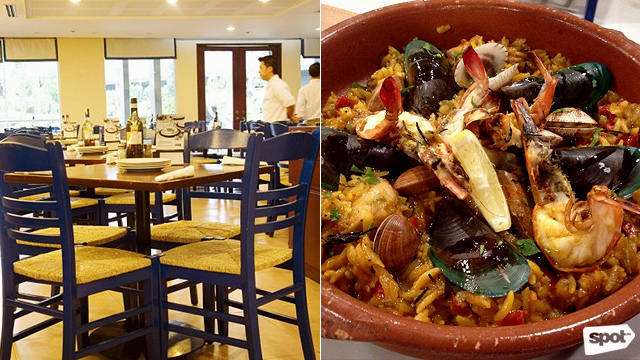 With Cyma's limited branches in the Metro, you'll be lucky to stumble on one at Trinoma, especially if you're craving something light and fresh. The restaurant founded by Chef Robby Goco will make you feel like you're at a friendly Greek family's home. Meanwhile, their relaxed and cozy vibe is matched with their excellent Mediterranean dishes like the crowd-favorite Roka Salata, a simple salad made of arugula, sun-dried tomatoes, candied walnuts, Parmigiano-Reggiano, and a traditional Greek vinaigrette. The Lamb Souvlaki, or skewered grilled lamb bites with tomato, onion, and bell pepper is another great option, but don't forget to pair it with Cymaâs creamy homemade garlic yogurt for an unforgettable meal.
Cyma is at 4/F Trinoma Mall, Bagong Pag-Asa, Quezon City.
This story originally appeared on
Spot.ph
. Minor edits have been made by the Fhm.com.ph editors.