In what could be one of the earliest consumer impacts of the Tax Reform for Acceleration and Inclusion (TRAIN) law that took effect on January 1, the Philippines' leading membership-only supermarket chain has halted unlimited softdrinks among its popular fast-food offerings on the same day the tax law became effective.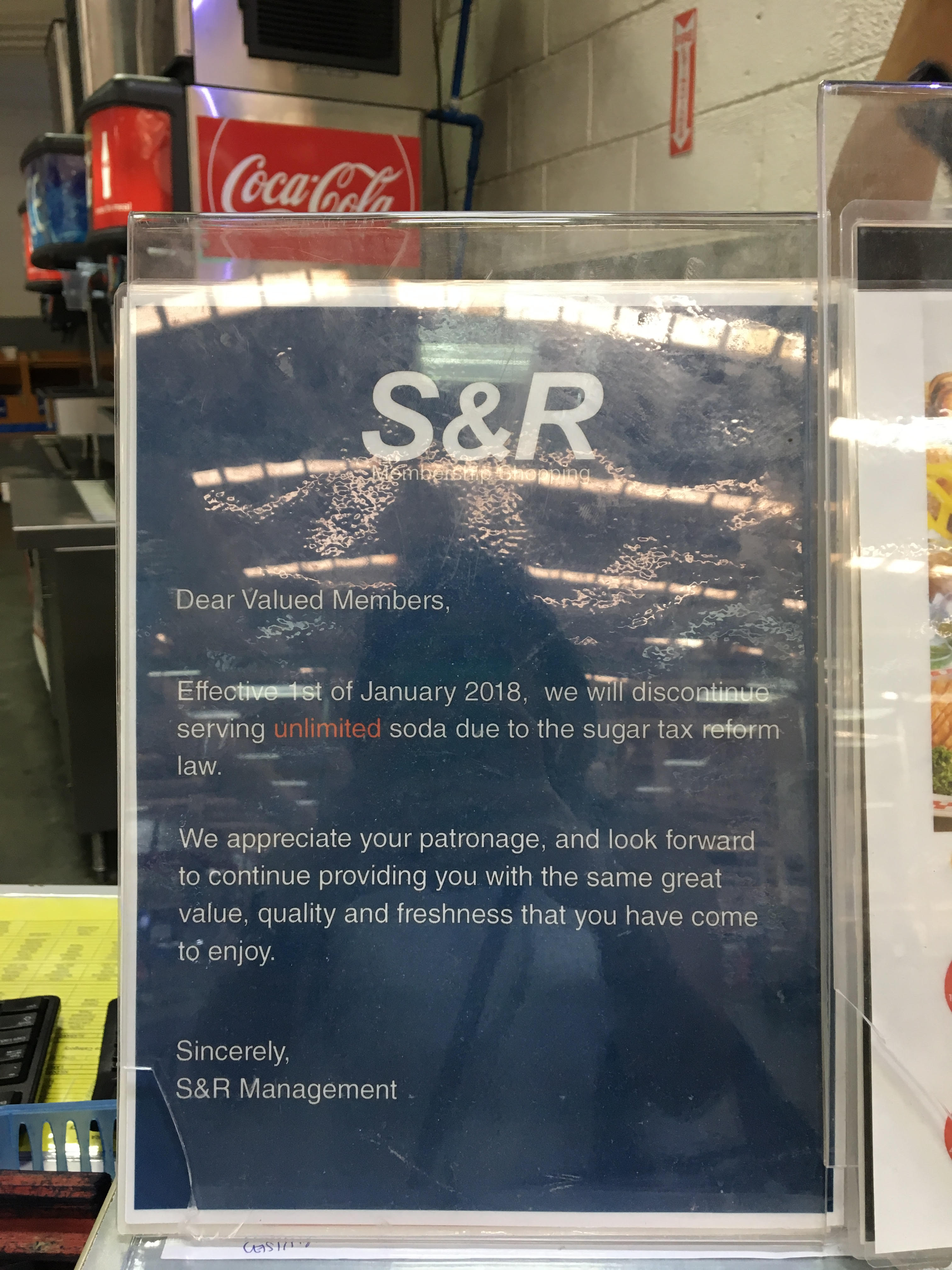 Section 47 of the TRAIN law, or Republic Act 10963, which was signed by President Rodrigo Duterte imposes new taxes on sugary drinks, including carbonated beverages. The law imposed a tax of Php6 per liter on sweetened beverages using caloric or non-caloric sweeteners and a tax of Php12 per liter on those using high fructose corn syrup, a sugar alternative.
The new tax covers sweetened beverages, defined as non-alcoholic beverages of any constitution (liquid, powder or concentrates) that are pre-packaged and sealed in accordance with the Food and Drug Administration (FDA) standards that contain caloric and/or non-caloric sweeteners added by the manufacturers. It includes sweetened juice drinks, sweetened tea, all carbonated beverages, flavored water, energy and sports drinks, other powdered drinks not classified as milk, juice, tea and coffee, cereal and grain beverages and other non-alcoholic beverages that contain added sugar.
The Bureau of Internal Revenue (BIR) has yet to issue the implementing rules and regulations on the new tax on sweetened beverages. These rules will specify how much exact tax will be imposed on different kinds of sweetened beverages, including carbonated drinks.
Coca-Cola FEMSA, the local bottler of Coke, has said it uses high fructose corn syrup for 90 percent of its sweetener requirement in the Philippines while Pepsi-Cola Products Philippines revealed 40 percent of its sweeteners use the sugar alternative.
Still, S&R has gone ahead and announced it is taking unlimited sodas off the menu of its popular in-store fast-food service.  "Effective 1st of January 2018, we will discontinue serving unlimited soda due to the sugar tax reform law," said a statement posted by the S&R management in its supermarket outlets on January 1. 
Priced at only Php99, the unlimited soda option is a popular added attraction for S&R's fast-food service arm, complementing its extra-large servings of pizza. In 2014, S&R began to operate stand-alone fast-food restaurants in shopping malls under the name S&R New York Style Pizza that are open to non-members.
As of end-2017, there were 15 S&R supermarkets and 23 S&R New York Style Pizza branches nationwide. The company is a subsidiary of the listed firm Puregold Price Club Inc., founded by retail tycoons Lucio and Susan Co, the country's 11th richest people with a net worth of $1.8 billion in September 2017, according to Forbes magazine.
This story originally appeared on
Entrepreneur.com.ph
. Minor edits have been made by the Fhm.com.ph editors.