Savage
G/F The Plaza, Arya Residences, McKinley Parkway, Bonifacio Global City
Contact: 0927-374-8539
Open daily from 11 a.m. to 3 p.m. and 6 p.m. to 10 p.m.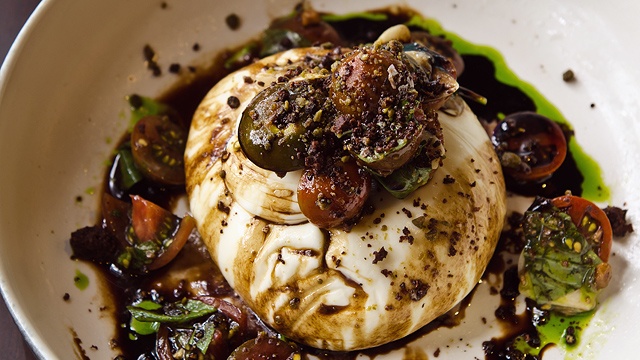 Between taking charge of The Bistro Group's many restaurants as executive chef and running The Test Kitchen (now on temporary hiatus), Chef Josh Boutwood has more than enough on his plate. But he isn't one to simply rest easy. "The Test Kitchen was [all about] refined food, [with] very select tasting menus," says Chef Josh. So I wanted to create something that was the alter-ego to that, and also to challenge myself."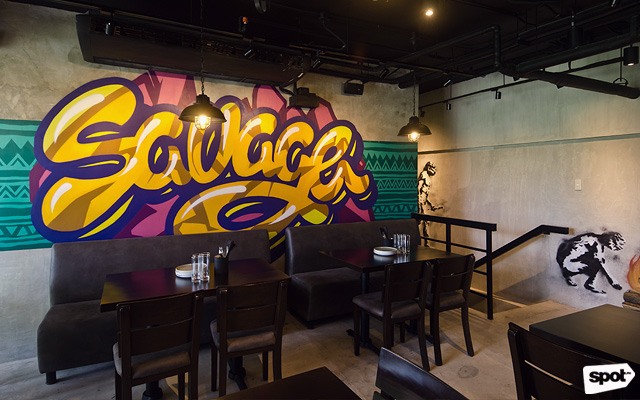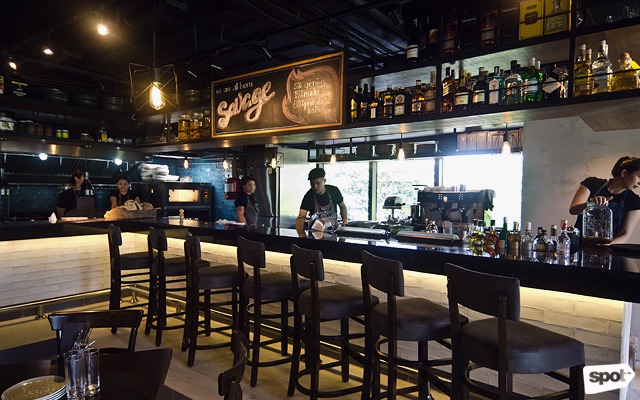 About one year in the making, Savage is Chef Josh's newest project and this aforementioned foil to The Test Kitchen. At Savage, he strips down his cooking to the barest essentials. "Savage is a pre-industrial cuisine restaurant," says Chef Josh. "We don't use gas or electricity, and that's something new nowadays where we're so used to using only modern technology and equipment."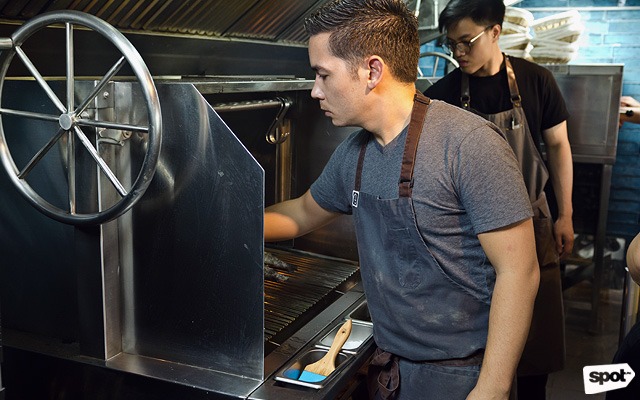 Chef Josh Boutwood challenges himself by cooking with open-fire grills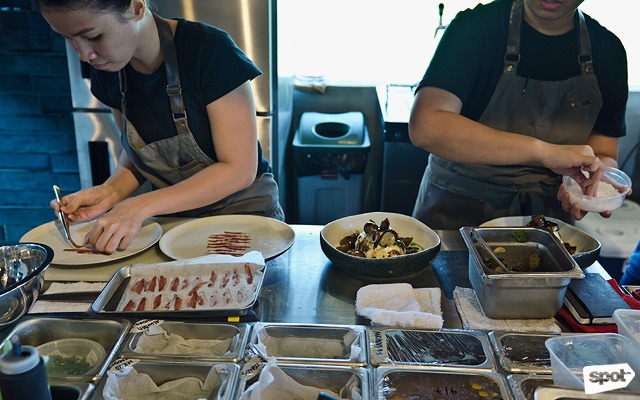 The star at Savage is the grill, customized for the restaurant, which only uses two kinds of fuel: Charcoal made from coconut husks and oak wood. Chef Josh shares that almost everything on the menu touches the grill at one point. "[What makes us different] is the whole unpredictability of the cooking method," shares the chef. "Each time we set alight the fire, thereâs always going to be a different kind of smoke, and a different kind of temperature. We customized the grill so we can raise and lower the actual grill plates and manage them that way, but itâs also come down to pure instincts, on knowing where the heat is coming from, and where the best flavor of the smoke is coming from."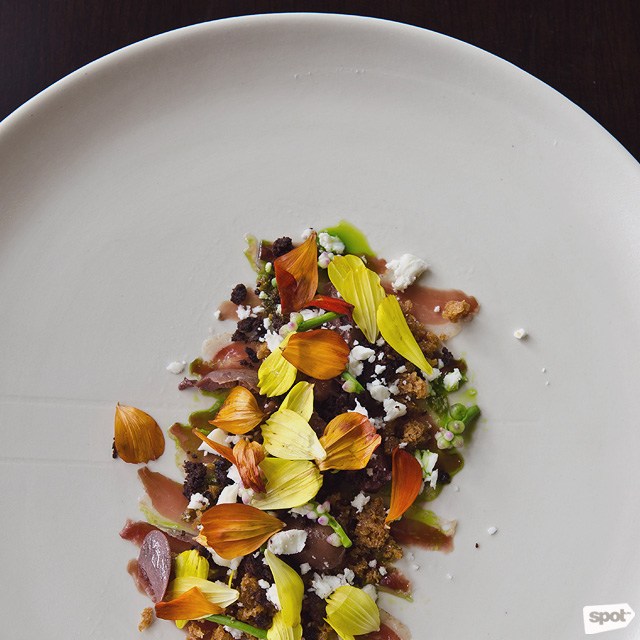 Cured Duck Breast, Kalamata Olives, Parsley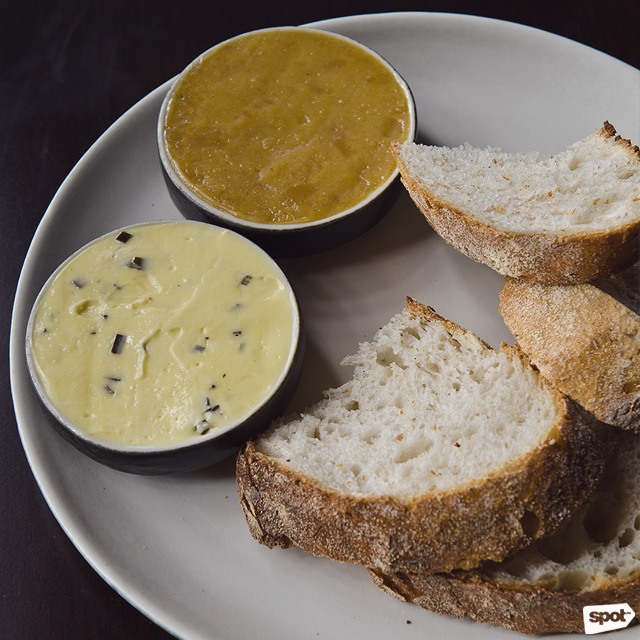 The Bread & House Butter (P190), with house-baked sourdough, burnt and kale butter, is a light yet satisfying starter.
The cooking method may be back-to-basics rugged, but Chef Josh can't completely shed the refined techniques, both in plating and putting together different flavors, that he showcased at The Test Kitchen. The Cured Duck Breast, Kalamata Olives, Parsley (P340) is presented daintily with edible flowers—a look that almost seems out of place within Savage's sleek industrial interiors, and grilled protein-based menu. But there's nothing delicate about the boldness of this dish, from the sharp brine of the duck ham to the crunch of the dried flowers and the spicy-saltiness of the olives.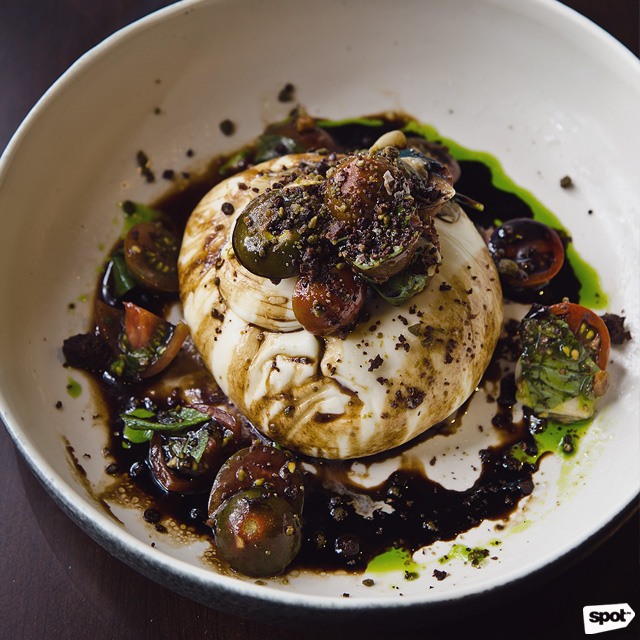 Heirloom Tomato & Fresh Mozzarella
The Heirloom Tomato & Fresh Mozzarella (P720) is another starter that'll excite your palate for what's to come. The burrata, custom-made for Savage to be sturdier and creamier than average, provides a suitably mild base to the stronger tang of the heirloom tomatoes tossed in a balsamic reduction, with basil, garlic, and Kalamata olives for an herby flavor that rounds out the dish. This is a salad you'll clear in no time.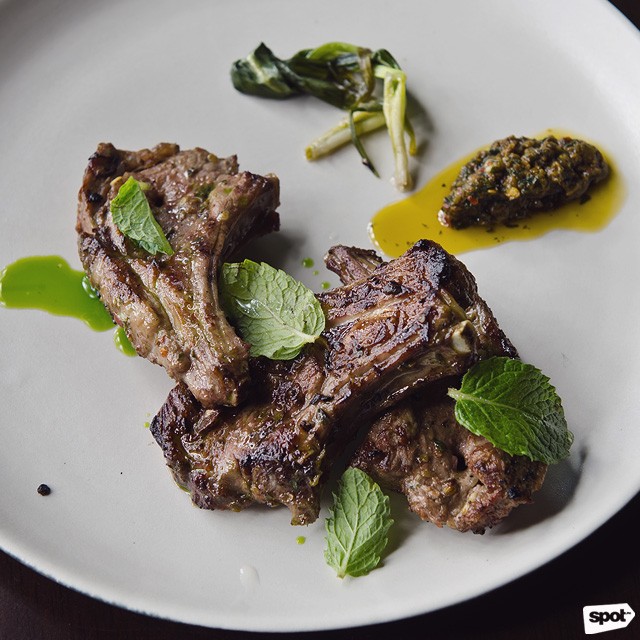 Lamb Chops, Mint & Malt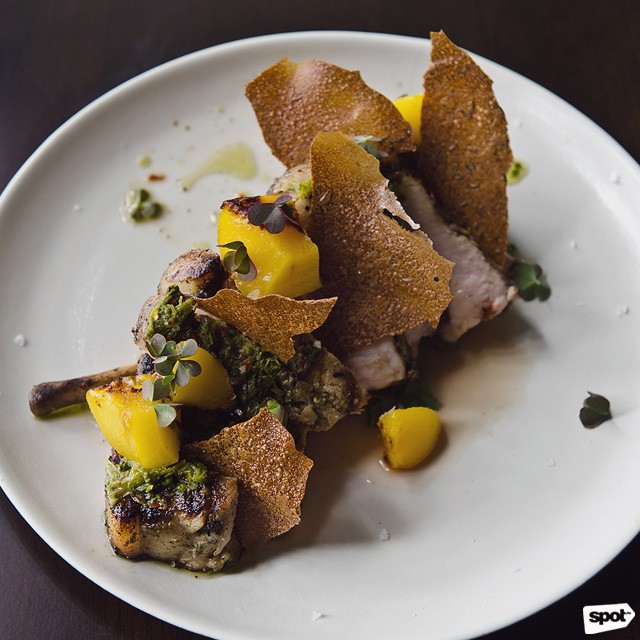 King Edward Pork Chop, Mustard Leaf Chimichurri
Savage offers different kinds of poultry, meat, and seafood, and though they all come grilled, they also boast different flavor profiles. The Lamb Chops, Mint & Malt (P1,900) come with tender lamb chops and a lip-smacking mint chimichurri with a subtle peppery note, while the succulent King Edward Pork Chop, Mustard Leaf Chimichurri (P620) has a whisper of citrus from the chimichurri, and sweet-tangy grilled peaches to balance out the richness of the generous layers of fat within each chop.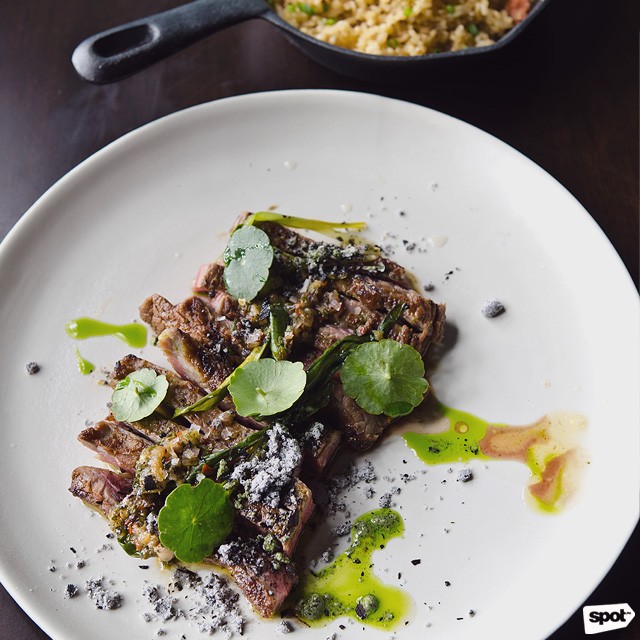 Flank, Ash, Pickled Ramp
While most steak fans will most likely go for the ribeye, the Flank, Ash, Pickled Ramp (P1,200) is also worthy of your attention. Incredibly juicy, this flank steak also has a crowd-pleasing sweet-zesty flavor from a tomato-based marinade. You won't be reaching for steak sauce or gravy any time soon.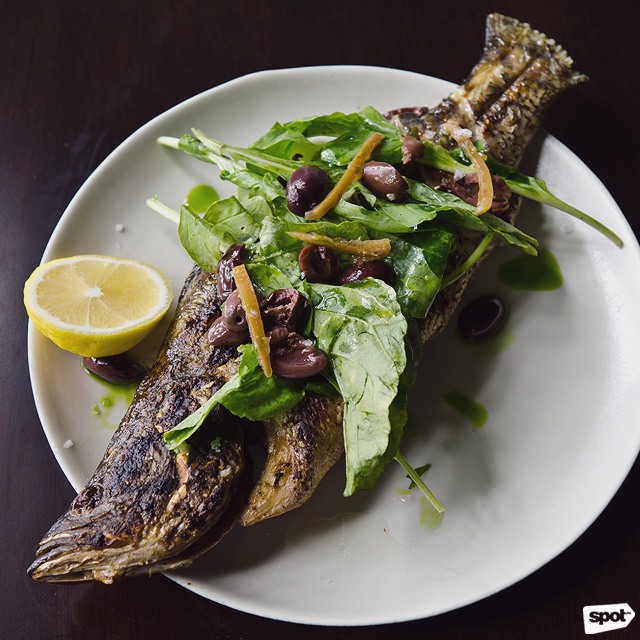 Barramudi, Arugula, Preserved Lemon & Olives
Whether or not you're a meat lover, the Barramudi, Arugula, Preserved Lemon & Olives (P1,200) is a must-try, if only for the fish's incredibly fresh and clean sweetness, with the peppery arugula and the sharp sourness of the preserved lemon slices adding a pop of bold flavor.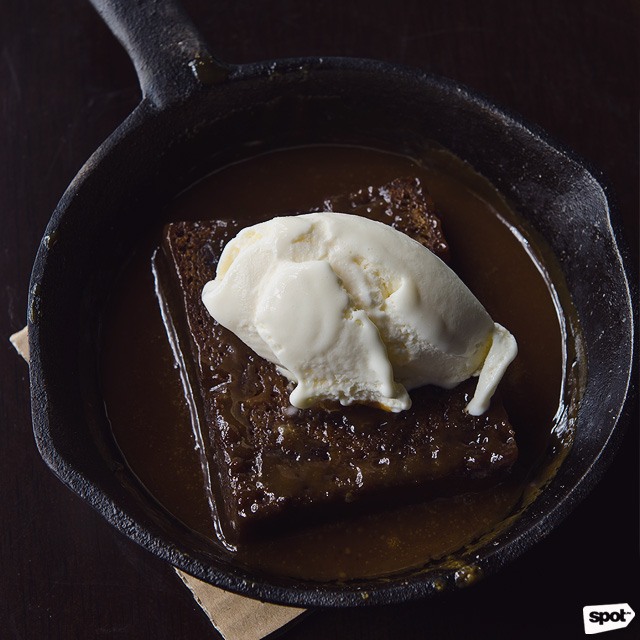 Finish strong with the decadent Sticky Toffee Pudding, Vanilla Ice Cream (P320)
"The word 'savage' has a certain robustness to it," says Chef Josh. "It's primal and aggressive, but there's also a certain elegance to it." Savage's meaty menu will likely bring out the latent primal carnivore in you, but the refined and elegant touch Chef Josh adds to every dish reminds you weâve really come a long way from cavemen status, especially with what can be done with some fresh produce and a steady flame.
Photos by Kai Huang
This story originally appeared on
Spot.ph
. Minor edits have been made by the Fhm.com.ph editors.