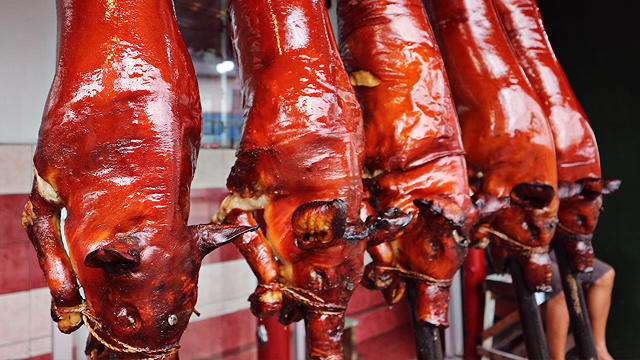 Nothing compares to the excitement you feel when you arrive at a party and get a glimpse of that glorious roasted pig laid out on the buffet table. You're sure you'll have to squeeze your way into the line because the lechon will run out before you know it. But it's well worth the long wait because no Filipino party is complete without a guilt-inducing serving of lechon.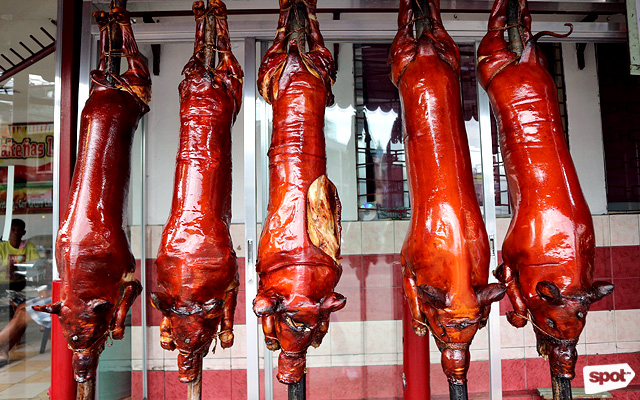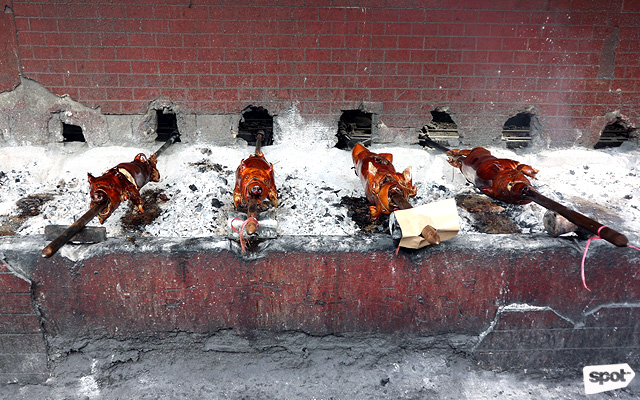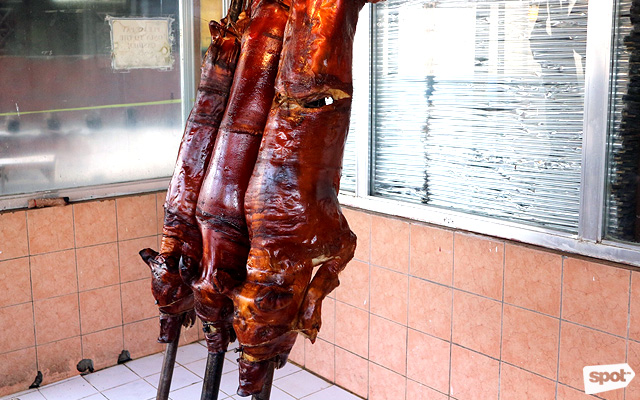 There's no need to call up every Tita of Manila to ask where the best lechon is. We did the pigging out for you and we've listed down the best lechon you can find in townÂbased on the crunchiness of the skin, the perfect balance of meat and fat, and the overall flavor.
Editor's note: Porchetta, pork roast belly, suckling pigs or lechon de leche, and Cebu lechon were not considered for this list.
10) Loring's Native Lechon (P900 for one kilo; P6,000 to P12,000 for whole)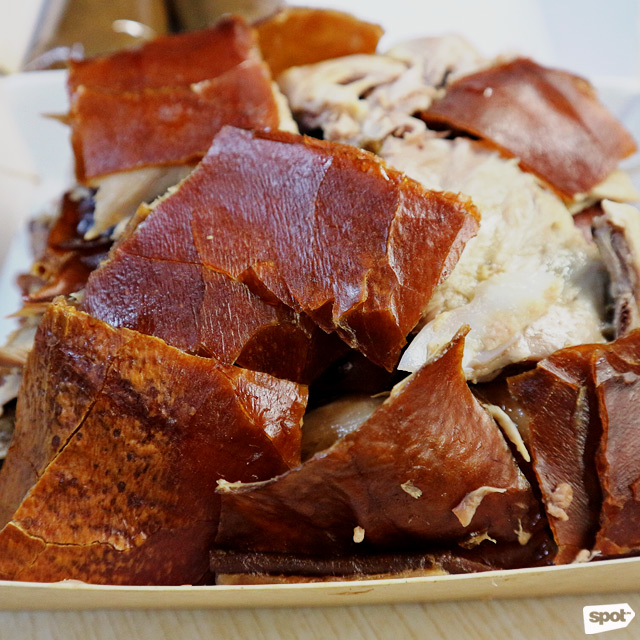 IMAGE Ida Aldana
Aling Loring first set up shop in 1960 (that's more than 50 years ago!) selling native lechon. It's pretty impressive that their lechon maintains a consistent juiciness and salty, tanglad flavor. While the skin may get rubbery in some parts, you'll barely find a trace of oil and it has the thinnest layer of fat, which makes this lechon perfect for those who prefer their roast pig on the lean side.
Loring's Native Lechon is at 6 J. Eustaquio Street, San Juan City. For more information, visit Loring's Facebook page.
9) Sabroso Lechon (P800 for one kilo; P6,200 to P9,300 for whole)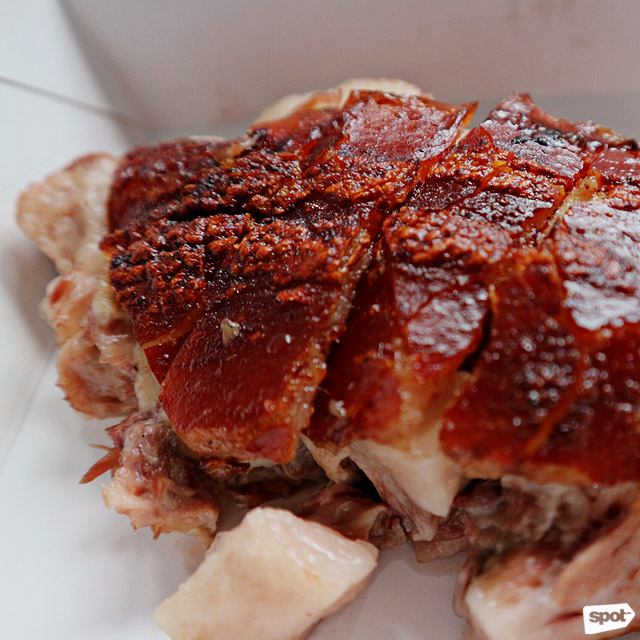 If youâ'e looking for a sinful serving of lechon, Sabroso is where you'll find it. Layers of fat cling to the underside of its thick, brown skin but once you get through it, you'll find it hard to stop slicing another bit of the flavorful meat below. Pro tip: Eat the skin first while it's still crispy!
Sabroso Lechon is at 223 Marmico Building, Katipunan Avenue, Barangay Milagrosa, Quezon City; and E. Rodriguez Avenue, South Triangle, Quezon City. For more information, contact 961-9934.
8) Monchie's Lechon (P600 for one kilo; P5,000 to P10,000 for whole)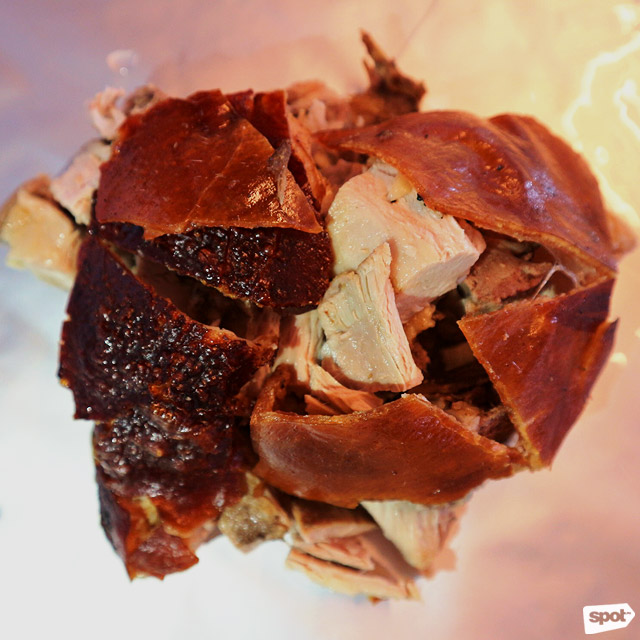 Monchie's is the place to go if flavor is your priority. The meat is well-seasoned with notes of lemongrass. Some parts of the skin are roasted to a nice, brown color but other parts are slightly more charred and the taste could get overpowering, so choose your serving carefully! Overall, the savory flavor of the crispy skin will remind you of chicharon.
Monchie's Lechon is at 16 N.S. Amoranto Street, La Loma, Barangay Salvacion, Quezon City. For more information, contact 508-4093.
7) Lydia's Lechon (P820 for one kilo; P6,800 to P12,800 for whole)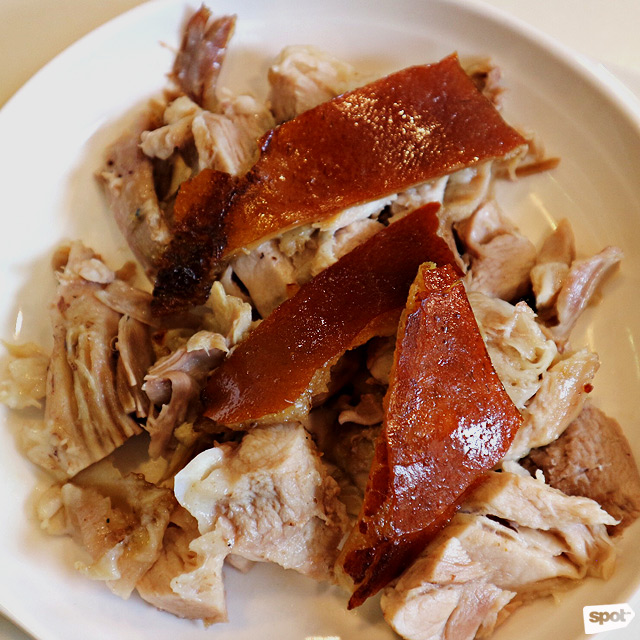 Lydia's Lechon is a go-to whenever you want a taste of lechon without having to attend an all-out Pinoy feast. You can easily order a small serving and pair it with rice. The meat is tender, with some bits of fat making it extra indulgent. A dip into Lydia's signature sarsa will bring out this mildly seasoned lechon's full flavor.
See a list of Lydia's Lechon branches.
6) Elar's Lechon (P6,000 to P9,000 for whole)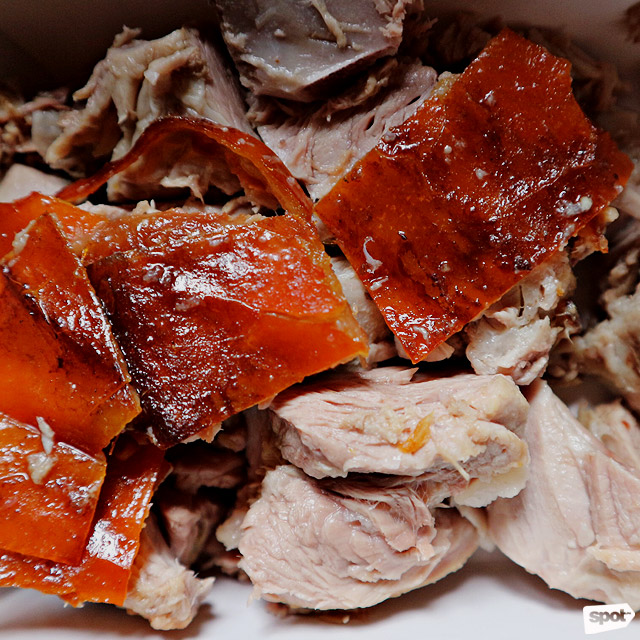 The best thing about this lechon is the succulent meat that "melts" in your mouth, without making you clutch at your chest for fear of an impending heart attack. The skin is a bit more chewy than it is crispy and while the seasoning is inconsistent, you'll enjoy the overall saltiness. Plus, the pork is so tender that you could turn this into paksiw the next day—all you need is sauce!
Elar's is at 151 Quezon Avenue corner Speaker Perez, Sta. Teresita I, Quezon City. For more information, visit Elar's Facebook page.
5) Ping-Ping Lechon and Restaurant's Special Native Lechon (P5,000 to P14,000 for whole)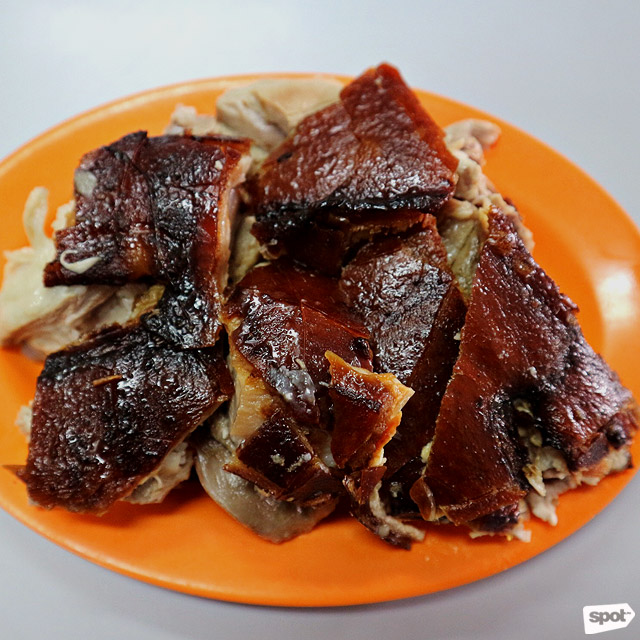 This lechon is generously seasoned and the skin cracks easily, letting you see the layer of fat sitting below it. Some parts of the dark-brown skin are slightly burnt but not completely charred, so if you're a fan of tutong, this is the lechon for you. The char adds dimension to the pork's flavor, giving it a unique taste that makes the hints of lemongrass more prominent.
Ping-Ping Lechon and Restaurant is at 360 Blumentritt Extension, Salvacion, Quezon City. For more information, visit Ping-Ping's website.
4) Gatchalian Lechon (P760 for one kilo; P6,300 to P9,300 for whole)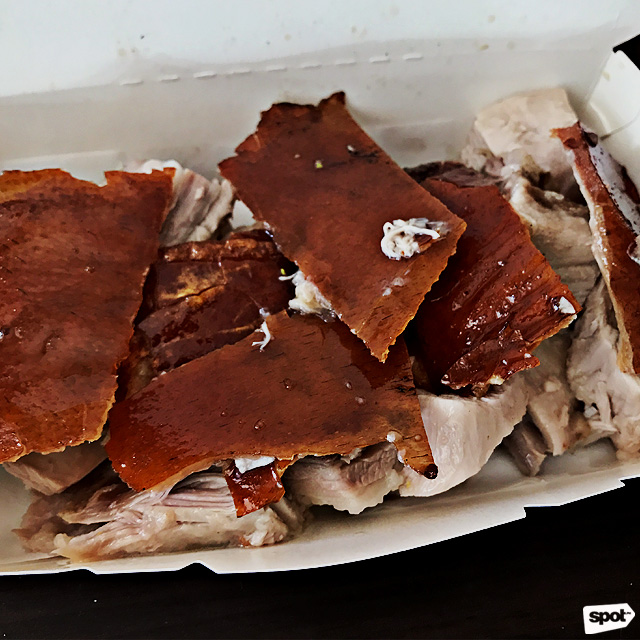 Don't be surprised if your delivery from Gatchalian Lechon is still warm when it arrives at your table. They cook their Bacolod-style lechon right in their backyard, ensuring every order is as fresh as it can be. The crispiness of the skin isn't uniform, but the savory flavor remains the same throughout. There's also a thin layer of fat right below the skin that reminds you that you're still eating lechon even if the meat isn't greasy—which isn't an easy feat. The pork is lean but it isn't tough to chew and has a surprising juiciness to it despite the barely visible fat. You'll get a consistent umami taste heightened by traces of lemongrass.
Gatchalian Lechon is at EDSA corner Mayon Street, Barangay Ilaya, Mandaluyong City. For more information, visit Gatchalian Lechon's Facebook page.
3) Mila's Special Lechon (P700 for one kilo; P4,400 to P11,500 for whole)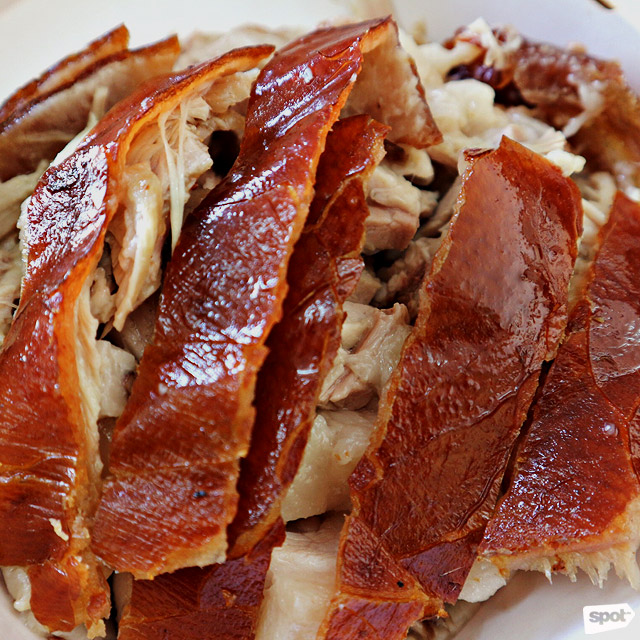 There's one word that will encapsulate the best part of Mila's lechon and it's a big one: Balat. The glistening golden brown skin will remind you why you fell in love with lechon in the first place. You get a satisfyingly loud crunch withÂevery single bite. They breed their own native pigs (and roast them right by their store!) so you'll get skin that isn't fatty but isn't too lean. The meat is tender and the mild lemongrass flavor is just right.
Mila's Lechon is at 63 Calavite Street, Paang Bundok, Quezon City. For more information, visit Mila's Lechon's website.
2) Leonardo's Lechon (P5,500 to P7,000 for whole)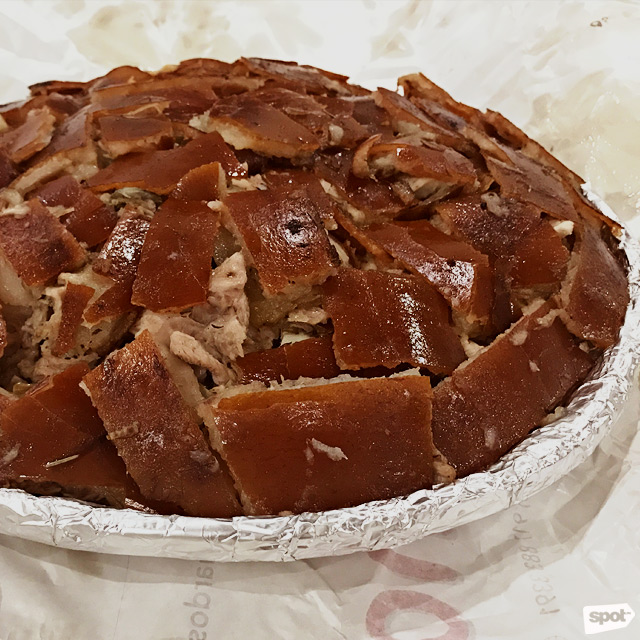 There are two ways to make the most of your lechon: Finish all of it in one sitting or turn it into paksiw because the skin isn't crispy anymore. Leonardo's introduces a third option: Leave it in the fridge and just heat it up again. It might be a bit on the greasy side when it's first served, but even after a few days, you'll be sure that the smooth skin will still have that crunchy bite and the meat will still be juicy, the flavor still distinctive enough that it doesn't need any sarsa.
Leonardo's Lechon is at 89 J. Basa Street, San Juan City. For more information, visit Leonardo's Lechon's website.
1) General's Lechon (P1,000 for one kilo; P7,000 to P10,300 for whole)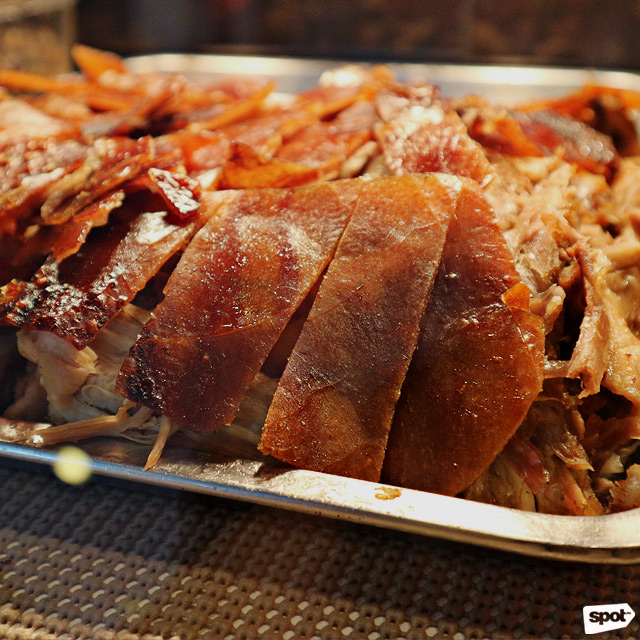 It's been a couple of years since we last awarded General's the top spot, but it's safe to say that they've still got it. Before you sink your teeth into its consistently crunchy, roasted skin (we know it's hard to resist that glorious, golden-brown balat but we promise it's worth the wait), take time to admire its velvety layer of fat underneath. That's just where the mouthwatering goodness begins, managing not to cross the line of being too rich or oily for your palate. Done? Now hear that beautiful crackle as you take your first bite. Besides the lechon's crisp skin, they've also figured out how to make the flavor of the succulent meat their own, making it herby and garlicky without being too overpowering. General's lechon is every bit sublime, and just to make sure the ranking is well-deserved, we'd gladly have some of it again (and again).
General's Lechon is at 2/F Petron Dasmariñas Village, EDSA corner Arnaiz Avenue, Makati City; 3 Guillermo Street, Ramos Compound, Sun Valley Drive, ParaÃaque City. For more information, visit General's Lechon's website.
This story originally appeared on Spot.ph.
* Minor edits have been made by the Fhm.com.ph editors.