While the hardcore gamers and techies among us go gaga over awesome tech specs, the average laptop customer just wants a lean machine that can do as ordered. This is especially true for the ladies: clunky, hyper-boosted gaming laptops are great and all, but unless she's a fellow techie, she probably won't appreciate it. If you're helping a woman in your life look for a new laptop (or you're doing some shopping of your own), here are a few things to consider.

Portability
If you're looking for a laptop you can carry around easily, the ASUS VivoBook Flip is a safe bet. It measures a mere 19.9 mm—smaller than a sheet of A4 paper—making it one of the slimmest laptops available on the market. And at just 1.2 kilograms, you're not going to get any back pains from lugging around this baby.

Powerful performance
Just because the ASUS VivoBook Flip is pretty doesn't mean it's not functional: It's powered by the latest Intel Core i5 Processor, guaranteeing unparalleled quick, responsive performance every time you use it. Coupled with NVIDIA GeForce 920M high-performance graphics, and the latest edition of Windows 10, it's really a machine to beat.

Long battery life
The ASUS VivoBook Flip's battery life taps out at up to 10 hours. That's good enough for a whole afternoon of Witcher or two seasons of your favorite TV series! Game of Thrones marathon, anyone?

Flexibility
Variety is the spice of life, and here's what sets the ASUS VivoBook Flip apart from other similarly-sized laptops: a 360-degree hinge allows screen rotation to correspond to what you're doing at the moment. Use the laptop mode to Skype with your girlfriend, tent mode to watch your favorite TV series, tablet mode for your games, and stand mode for your favorite ebooks. Isn't that way more fun than using a plain old vanilla laptop?

Aesthetics
The days of clunky, boring laptops are over. Nowadays, sleek, metallic finishes are all the rage. The ASUS VivoBook Flip's multi-gear alloy-and-steel construction fits the bill, combining form and function in one gorgeous package.

Price
You'd think the ASUS VivoBook Flip's impressive specs warrant a hefty price tag, but you couldn't have been more wrong: It starts at just P22,995 for the6" model, finishing at P40,995 for the top-of-the-line variants. Now that's sexy.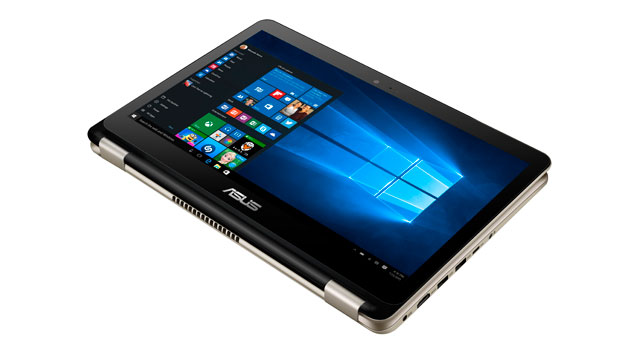 The ASUS VivoBook Flip is available at all ASUS Authorized Resellers nationwide. Price starts at P22,995. Visit www.asus.com/ph for more details.