If you're not down for bar hopping, perhaps a no frills chillnuman will do the trick. You could just invite your friends over for some laid-back drinking session at your place, but entertaining people has never been your forte. Tough, right? 
You'll be surprised to learn that having a chillnuman is actually easier than you think. You just need to know these essentials: 
Pick a lazy day/night.
To have chillnuman is to have a lazy and stress-free drinking session. So as much as possible, do it on your free day—so you can focus on nothing else but being chill. After all, you need is some laid-back inuman as you've been probably stressed out for past several days.
Invite your closest friends over.
No need to turn your event into a street party as you're only having a chill drinking session. Just invite your closest friends over and have a great time. By keeping the guest list small, you're also absolved of the hosting responsibility of introducing new faces to each other—and that means more time to hang out with your buddies.
Set the mood with an easy playlist.
What's a chillnuman without some good music? But if you don't have time to line up a playlist, don't worry: music streaming services have a bunch of chill playlists that will please even the biggest music snob among your friends. So kick back, relax, listen to some easy music, and drink up!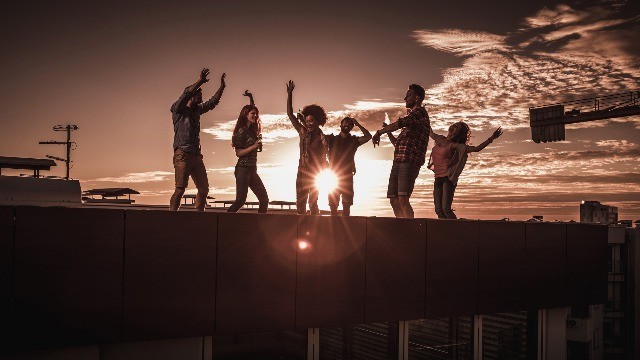 Buy disposable plates, cups, and utensils.
They're available at the nearest convenience store and spare you a ton of dishwashing after the drinking sesh. You can also ask guests to mark their cups and plates with their names, so you won't even need to buy that many. 
Make it a potluck.
Not handy in the kitchen? We feel you. Instead of slaving over a stove—and potentially burning your place down—make it a potluck agenda instead. Order a few essentials such as couple boxes of pizza and a few buckets of chicken wings, then let your friends supply the rest of the grub.
Have some chill fun.
You have many options. Boot up your video game console and let guests challenge each other to a round of classic fighting game. If you want something more geek and laid-back, bring out the board and card games, and have some good old-fashion play time.
Choose hassle-free drinks that everyone will love.
Perhaps the most crucial consideration is the choice of drink you'll serve. Go for one that you know all your friends will enjoy like Andy Cola. You don't have to make an effort to mix things up—just pop the cap and you've got yourself a unique blend of whisky and cola. Simply put, this drink has the swabe hit of whisky and the refreshing taste of cola; it would sit well in your chillnuman with your crew. 
Now that you have all the essentials down, the only thing left is to invite your friends over. Happy chillaxing! If you're curious about Andy Cola, visit their Facebook page to know more and to get updates on latest promos.