It is easy to mistake JM de Guzman for just another young actor capitalizing on nothing more than youth and good looks. A closer inspection, however, reveals a depth and maturity beyond his age.
Although JM is only 30 years old, he's been under the spotlight for over two decades. He started acting in TV commercials at only six years old, moving on to do TV at 13. Despite his early start, his career was earned and not just handed to him without a fight. He took up Theater Arts at the University of the Philippines in an attempt to help him find direction for his then slow start in the industry.
"Yung theater, parang desperate move lang kasi wala na akong projects sa TV nun," he recalls. "Kung magkaroon man ako ng project, yung character ko after a week pinapatay or biglang umuuwi sa probinsya."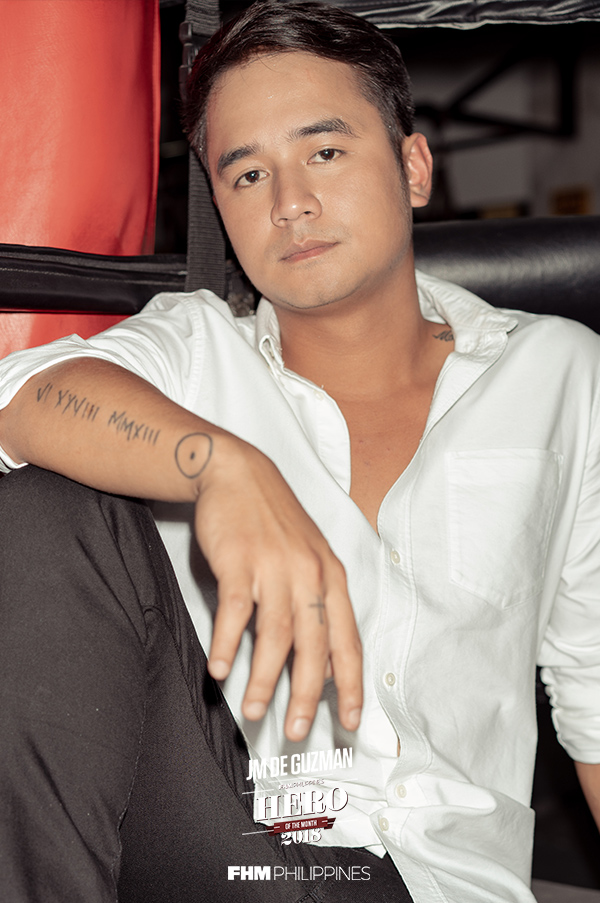 Although he initially enrolled without totally knowing what he was getting into the passion and drive of the theater community inspired him and opened his eyes to the the true beauty of the craft. During his time in UP, he honed his skills not just in acting, but in all aspects of the production. "Nung nag-theater ako, I really did not start as an actor. Kami yung staff behind-the-scenes—from backstage, props, costume, stage sounds, publicity, marketing, lahat yun. Kapag sinwerte, kukunin ka as chorus. Mahirap kasi lahat graded. Half nung araw ko academics, tapos hapon hanggang gabi, kami na yung nagtratrabaho behind-the-scenes. Na-experience namin na for two months, araw-araw kami na sa stage," he shares.
Perhaps it was the experience of doing things away from the spotlight, as part of a crew all working together for a successful production, that gave JM a much deeper appreciation for the artform and the discipline needed to succeed in an extremely competitive industry. But his training in college wasn't all behind the scenes, of course, it also challenged his acting ability and expanded his boundaries. In one of  his more memorable experiences, he bravely took on the role of Valentin Arregui in Manuel Puig's Kiss of the Spider Woman, where he had to kiss another man on stage and expose half his butt all in order to sell the role—daunting tasks for a mere celebrity, but all part of the job for any actor worth his salt. Hindsight is always 20/20 they say, and while he still recalls the feeling of dread he felt before going on stage at the time, he understands that more than any fear of failure or ridicule, the story comes first above all.
"Nung ginawa ko yung Kiss of the Spider Woman, yung role ni Valentin, yung rebel na ginamit niya yung gay na kasama niya sa preso para makatakas, first kissing scene ko sa lalaki yun sa stage and first half-butt exposure ko sa stage. Mahirap."