Just like the once-touted careers of Arvie Bringas and Ken Acibar (where are they?), Season 78 of the UAAP is over. It's been a week, actually. It was another rapid and memorable tournament of high-fueled, balls-to-the-wall, palitan-ng-mukha action. Not to mention several off-court controversies spicing up the league like Sriracha on a spring roll.    
Right now, the Far Eastern University Fighting Tamaraws are busy savoring their 20th championship. With their inspiring conquest of Season 78, they have now reached the true pinnacle, the zenith, the nirvana of triumph: guesting on noontime shows. We expect a video of Coach Nash Racela twerking real soon.
But the UAAP champs aren't the only ones who deserve recognition. There were also a slew of players who gave valuable contributions, consciously or otherwise, that made the season as thrilling and as entertaining as it was.
So let's roll out the red carpet for the first-ever, and probably the last, FHM's Late Imbento Awards for the UAAP! Better watch out, ESPYs!

HU U? AWARD - CLARK DERINGE 
UNIVERSITY OF THE EAST RED WARRIORS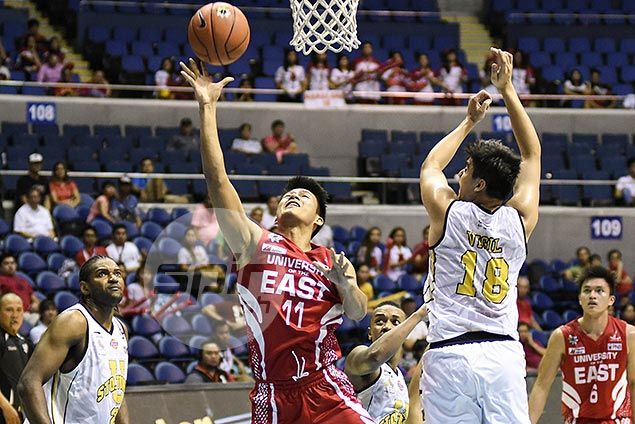 If there was a Second Round MVP, then Derige was sure in the running. After a lackluster start (most fans didn't even know his first name), he just blew up in the second round. He's like Justin Bieber's new album. Coming out of nowhere, he put up 13.1 PPG and 5.6 RPG. He has good post moves, can shoot from long distance, and plays decent defense. Whatever you're eating, Mr. Derige, just keep munching on it until next season. Share it with your teammates too.

RESBAK AWARD - ALFRED AROGA
NATIONAL UNIVERSITY BULLDOGS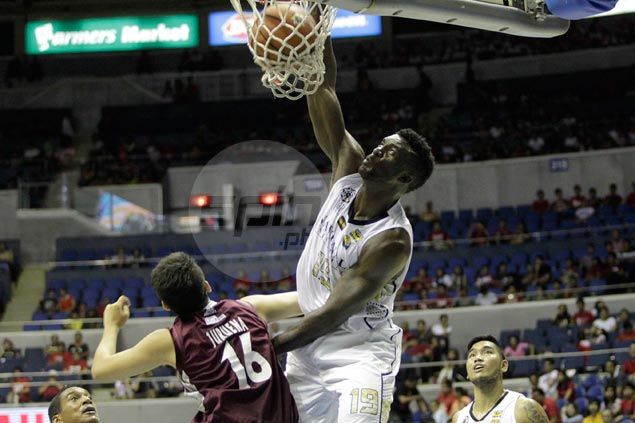 If Gelo Alolino was the Team President, then Aroga was the Sergeant-at-Arms. He really embraced the role of being the team's kuya this season. He was always the first to stand up for his teammate whenever there was a heated altercation or a hard foul. Some people criticize his actions, but he just wants to protect, as he likes to call them, his brothers. He gets deeply passionate and emotional when playing basketball. Wouldn't you want Aroga on your side when passing a sketchy eskinita? 

ZUMBA AWARD - JASON PERKINS
DE LA SALLE GREEN ARCHERS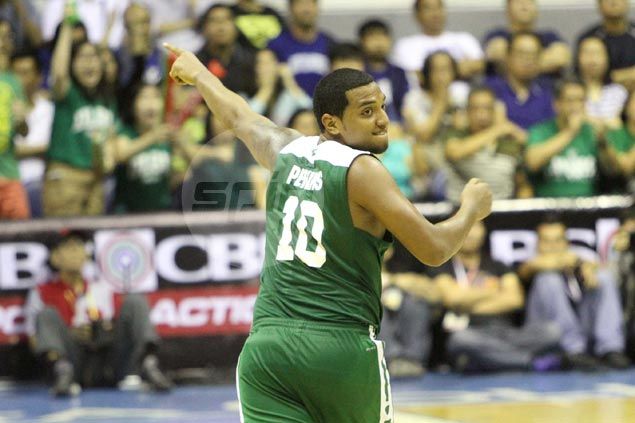 From Hefty Lefty to Healthy Lefty! If you want to shed the extra weight you'll inevitably gain this Christmas, don't go to your gym instructor. Just call Perkins. The fun-loving forward lost a ton of weight this season. Unfortunately, he lost some of his strength and power too. He wasn't as effective in the paint as before. But perhaps, he's thinking long-term. If he wants to play in the PBA, he really needs to be in tip-top shape. We miss the extra bulky Perkins though. 

EXTRA RICE AWARD - IVAN VILLANUEVA
ADAMSON UNIVERSITY SOARING FALCONS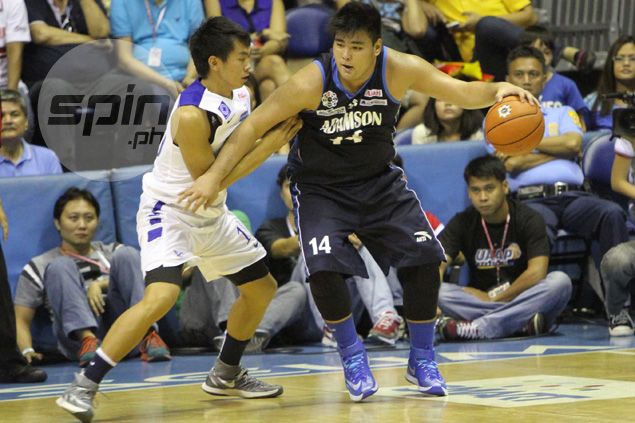 If Perkins lost a lot of weight, Villanueva, well, did not. He's the chubby, agile guy you also meet in pick-up games. He's one of the league leaders in body mass index. Safe to assume, he's Adamson's Tirador ng Packed Lunch. Every team has one. But his weight is part of his game. He knows how to throw it around. He's a good chemistry guy too, always rallying and motivating his teammates. Or maybe he's just sweet-talking them so he can get their extra rice.   

HAY, NAKO AWARDS - G-BOY BABILONIA (ATENEO BLUE EAGLES) AND MARK JURUENA (UP FIGHTING MAROONS)

This award is named after the fans' reactions caused by Babilonia's and Juruena's plays. Every time Babilonia misses a four-foot shot: "Hay nako!" Every time Juruena misses a point-blank put-back: "Hay nako!" Every time they get out-rebounded by a smaller guy: "Hay nako!" Being veterans, you would think that they'll be more productive and competent by now, especially for Juruena, who's a former UAAP Juniors MVP. But that was not the case this season. We can also name them Not-Most Improved Players of the Year.

HIRAP I-PRONOUNCE (AND I-SPELL) NAME AWARD - KEN AND STEVE HOLMQVIST
FEU FIGHTING TAMARAWS

A few more vowels could've really helped.

HIRAP I-PRONOUNCE (AND I-SPELL) NAME AWARD PART 2 - ED DAQUIOAG
UNIVERSITY OF SANTO TOMAS GROWLING TIGERS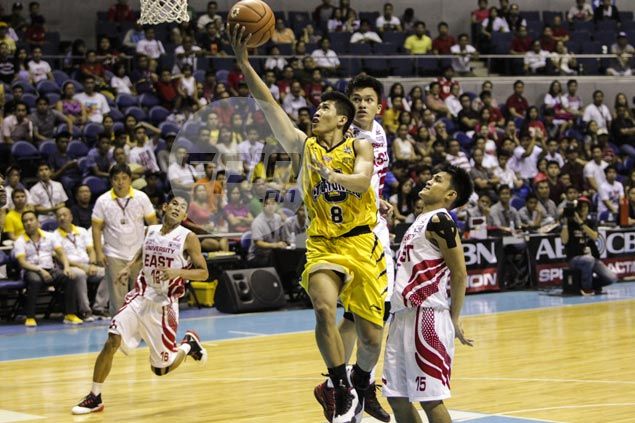 A few more consonants could've really helped.
MUKHANG GRADE SCHOOL AWARD - PAOLO JAVELONA
NU BULLDOGS
Javelona is done with the UAAP after playing out his five years of eligibility. Yes, he's one of the league's older statesmen. But he could still pass up as a grade school student with his clean-cut hair, braces, and regular-looking physique. We could imagine him arriving at Araneta Coliseum with a stroller and a Lighting McQueen lunchbox. But don't be fooled by his looks. He's one of the toughest defenders in the league and he can be all up in yo face. 'Di ba, Kiefer? 

BOY-NEXT-DOOR AWARD - PIO LONGA
UP FIGHTING MAROONS
While Sarr and Aroga strike fear into the hearts of opposing fans, Longa makes them go "aaaw" and type heart emojis. The Cebuano sniper is known for hitting three-pointers, but he's quite a hit with the ladies too. They scream their lungs out every time he steps on the floor. We feel queasy describing his matinee idol looks so just look at his photo. He has the potential to be a star if he keeps on working. If not, well he can always enter showbiz.

PLAYER KA BA? AWARD - FRAN YU
UE RED WARRIORS
Just look at him. Parang pinabili lang ng toyo kila Aling Pining tapos naligaw sa court. We wouldn't be surprised if there were instances of Yu not being allowed by security guards to pass through the players' entrance. Even when playing, he looks like he doesn't fit the part with his oversize uniform. But again, don't let the looks fool you. He's actually a sought-after prospect, having been named MVP of the Palarong Pambansa. He can really hoop and knows how to make his teammates better. 

KEVIN RAMAS "MR. SORRY' ACHIEVEMENT AWARD - ANDREW HARRIS
UP FIGHTING MAROONS
Named after the former Alaska center in the 90s, whose patented move was to apologize to the bench, the award goes to the equally apologetic Harris. He averaged 45.7 sorry's per game. Every time he missed a shot = "Sorry." Every time he fouled = "Sorry." He said "Sorry" whenever he forgot to say "Sorry"! We appreciate your modesty and willingness to accept fault, but come on, man! Just play hard and make up for your mistake. You don't have to apologize every damn time.

KANGKAROT AWARD - JOSEPH NALOS
ADAMSON FALCONS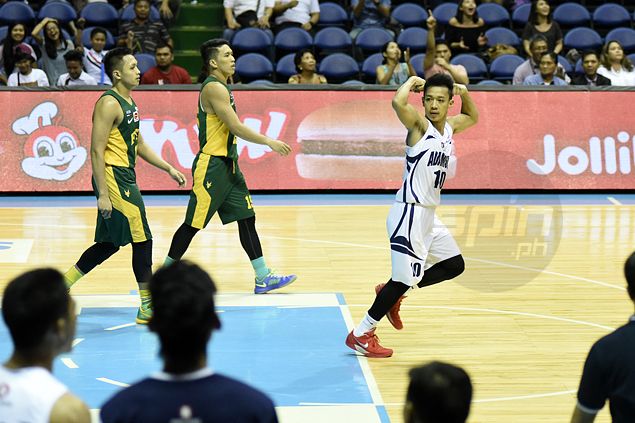 You know that tiny guy in every pick-up game who's just faster than everybody else? He's tireless, scrappy, and runs at every opportunity. That's Nalos. The senior playmaker is mostly erratic (averaged 3.5 turnovers per game) but he can sure ball. He's one of the more underrated players of Season 78. Plus, even though he's pint-sized, he's a really tough player. It shouldn't be a surprise though since he hails from Cebu, the land of hard-nosed basketball players, dried mangoes, scenic beaches, and Annabelle Rama.

SOLAR BOY AWARD - PAUL DESIDERIO
UP FIGHTING MAROONS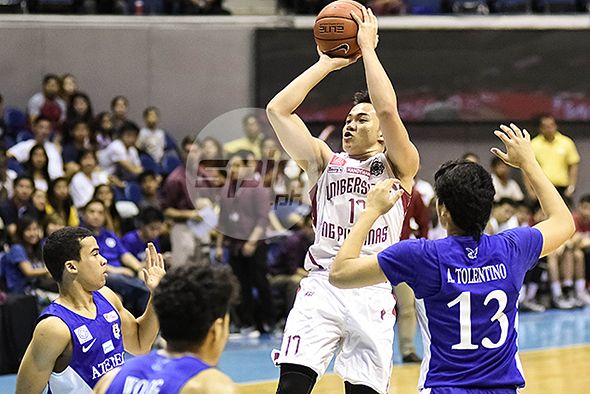 If there's one guy who plays balls-out every game, it's Desiderio. He's an indefatigable workhorse. He plays as if huge stakes are on the line all the time. It's as if Planet Earth will be decimated by aliens if they lose. Or as if Jed Madela will be named President of the Philippines. He's exactly like those manongs playing under the heat of sun without any slippers on, playing for ice tubig. They don't care if they're exhausted. They have to get that ICE TUBIG!

MAMAW AWARD - PAPI SARR
ADAMSON FALCONS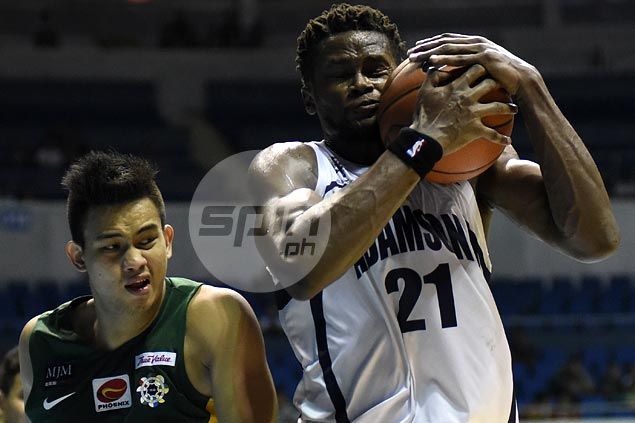 Sarr is the Taguro of the UAAP. Ilabas ang isang daang porsyento! The hard-playing import from Cameroon started the season slow but he quickly realized that he's stronger than anyone. So he just muscled his way to 14.9 PPG and 8.9 RPG in his rookie campaign, punctuated by a pair of 20-20 games. If only Adamson won more games and he earned more win points, he'd definitely be in the Mythical Five. He's probably the most menacing guy named Papi in history. Galing mo, Papi!

FREE THROW AWARD - JAN SHERIFF
UST GROWLING TIGERS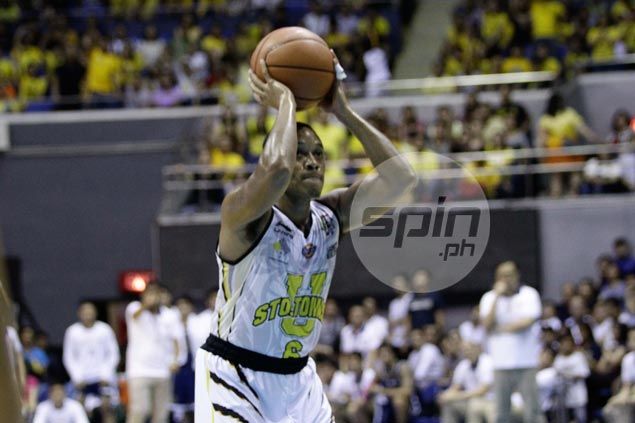 Jamaal Wilkes, Chuck Hayes, Anthony Mason (R.I.P.), and Joakim Noah. They're the Mt. Rushmore of Ugly Free Throw Shooters. But Sheriff sure has warranted some consideration. He used to have a pretty normal stroke, but since he often bricks his freebies, the UST coaches ordered him to change it in the middle of the season. Now, he carries the ball all the way up over his head with both hands and then hurls it—no, catapults it—to the rim like he's throwing a huge boulder.
However, here's a video of Wilkes' infamous shooting form to show that Sheriff's isn't too bad.

IKAW NA! AWARD - VON PESSUMAL
ATENEO BLUE EAGLES
He studies at THE Ateneo. He has arguably the finest shooting stroke in the UAAP. He has a bright future ahead of him. He is the boyfriend of beautiful Ateneo courtside reporter Laura Lehman. Okay, you can forget the first three factors. Kahit 'yung pang-apat na lang. Pessumal didn't win a title in his final year. His consolation prize? He gets to cuddle with the former beauty queen, who can easily soothe the pain away. Forget the UAAP championship! You win in life, Mr. Pessumal. 

HAIR OF THE YEAR AWARD - KARIM ABDUL
UST GROWLING TIGERS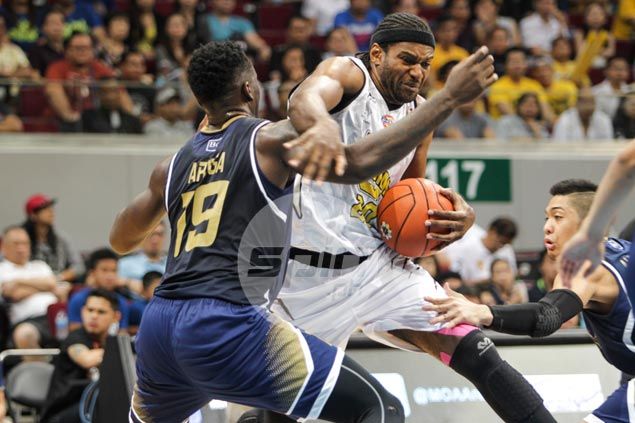 While most players got the poging-pogi-sa-sarili undercut hair, Karim drew inspiration from one of the most prized art movements in history: early 2000s hip-hop. The UST big man got 'em braids, y'all! Just like pre-Hollywood Ludacris and Sean Paul (remember him?). It's a good look for Karim. The exact opposite of those corny braids you can get in Boracay. He may have fallen short on the title, but he sure got our vote for Best Hair. Worst would be Adamson's Jerome Garcia and his headband.
FACE OF THE YEAR AWARD - MAC BELO
FEU TAMARAWS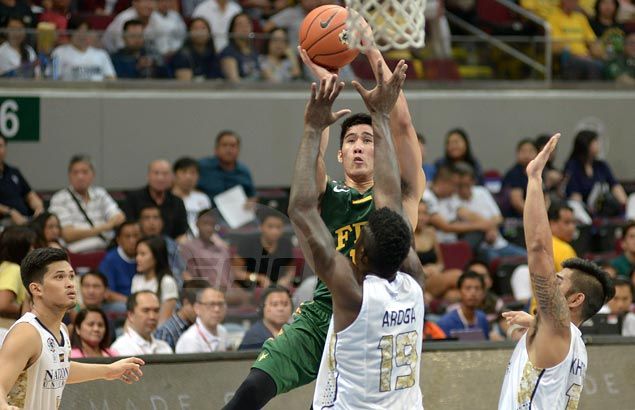 The face that launched a thousand questions. "Bakit parang lagi siyang malungkot?" "Sumasaya kaya siya sa buhay?" "Ganun pa rin kaya mukha niya kapag kiniliti?" Derrick Rose has nothing on Belo's poker, expressionless, deadpan face. Heck, even the Queen's Guards at the Buckingham Palace would flinch in a staring contest against the FEU stalwart. Whether he scores a crucial basket, puts an opponent on a poster, or blocks a shot all the way to Morayta, his face is constant. For Belo, smiling is overrated.  

BOY BAKAL AWARD - JERON TENG
DE LA SALLE GREEN ARCHERS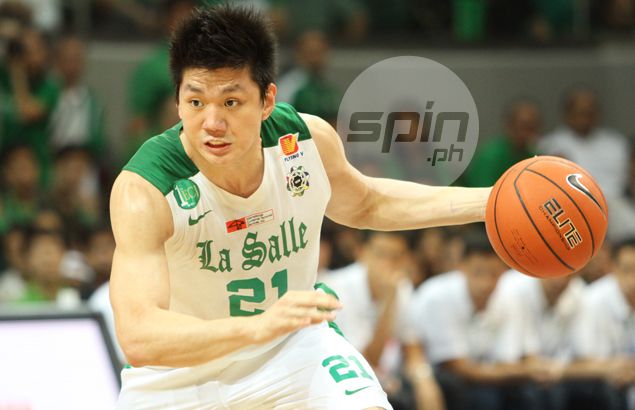 Is there a more deserving guy for this award other than Robocop Jr.? Teng is a special specimen with his combination of strength and skills. He's like a rampaging rhinoceros when attacking the ring. Your life will flash before your eyes when you try to stop him. Defenders must feel the same whenever he scores an and-one basket over them: "Ang dumi-dumi ko!" It looks like he bench presses in his sleep and makes dumbbell curls in the classroom. In local parlance, kumakain ng bakal.

BOY SIGAW AWARD - THOMAS TORRES
DE LA SALLE GREEN ARCHERS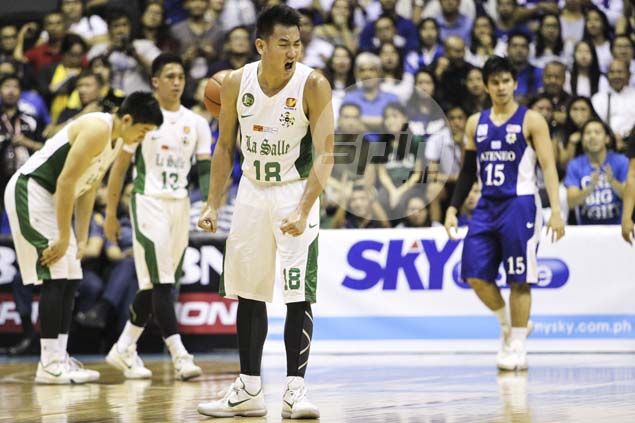 He may look like Bimby, but Torres is as intense as they come on the court. In fact, it always looks like he's mad at something. His favorite thing in the world is to scream. After a three-pointer? "AAAH!" After a dipsy-doo lay-up? "AAAH!" After a nifty assist? "AAAH!" After setting a pick? "AAAH!" After drinking water? "AAAH!" After finding a parking spot? "AAAH!" It's highly probable that he also screams after reciting in class. Maybe he'll scream after reading this. Pray for Torres' esophagus.

PUBLIC SERVICE AWARD - JOHN APACIBLE
ATENEO BLUE EAGLES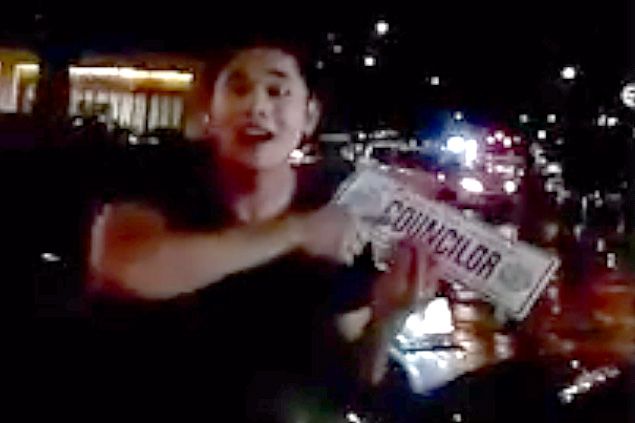 "The Councilor" led the league in arrogant displays of intoxication this season. No further explanations needed.

MR. SWABE AWARD -ROGER POGOY
FEU TAMARAWS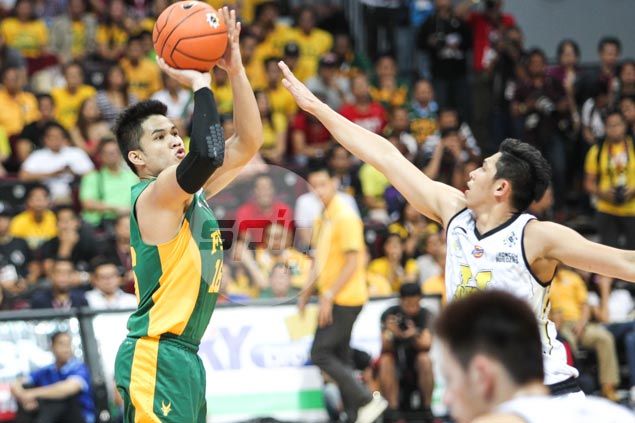 Oh oh oh, grabe. We don't know about you, but we really feel like Pogoy became more dangerous than Belo and Mike Tolomia this season. If you're an opposing fan, titira pa lang siya, kakabahan ka na. He's such an accurate shooter and smart scorer that you know he's gonna make a basket, especially during crucial moments. He's not flashy and flamboyant. He's such a humble kid too. If Pogoy still has bashers, then there is really no hope for humanity. Pogoy > Popoy.

WOW, MATURE NA AWARD - KEVIN FERRER
UST GROWLING TIGERS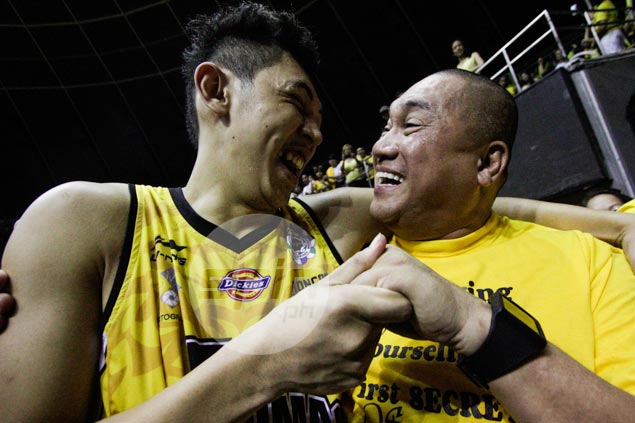 We witnessed Ferrer grow up in the UAAP. From a wide-eyed rookie to a tongue-wagging forward to a mature skipper. UST's surprising run in Season 78 was largely because of Ferrer fully embracing his role as a leader. Gone are the trash-talking, extracurricular gulang moves, and of course, his trademark labas-dila. But for good old time's sake, he did stick it out in Game 2 of the finals amidst his crazy, oven-toaster-in-full-blast hot shooting display in the third quarter. Who can blame him? Co-M-V-P! Co-M-V-P!

LOVER BOY AWARD - KIEFER RAVENA
ATENEO BLUE EAGLES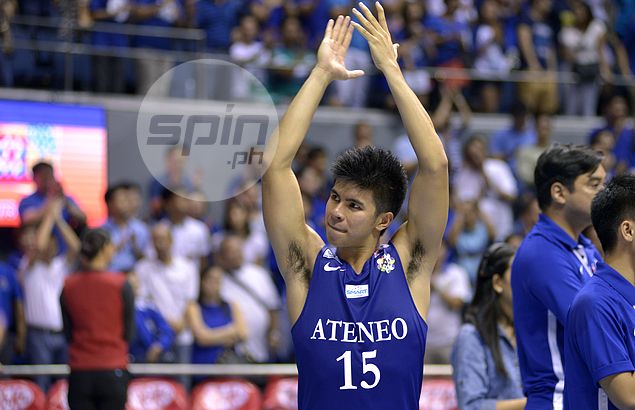 We all know he's the MVP, but this award is waaaaay more significant. Hands down, "The Phenom" is the busiest player in the league. Aside from being a student, he co-owns a breakfast place in Quezon City, has several TV and online shows, does tons of endorsement deals (thanks, Tito Boy!), and now, he seriously wants to play for Ateneo's men's volleyball team! How does he do all of these? It's simple: He's inspired by his new <3! Clue: Her name sounds like Schmalyzza Schvaldez. 

BONUS: PRETTIEST COURTSIDE REPORTER OF THE YEAR!
ALL OF THEM!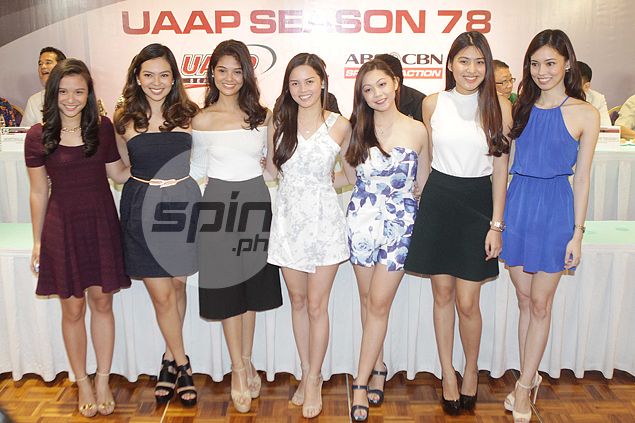 Care to disagree?
Photos from Spin.ph; Dzrhnews.com (Paolo Javelona); Inquirer.net (Pio Longa); Joaqui Flores for Tiebreakertimes.com; ABS-CBN.com (Von Pessumal and Laura Lehman)