The Philippines is getting its first Designer Outlet mall when it opens near Tagaytay City in August this year. Designer Outlet is a chain of retail shops that offer popular fashion items at bargain prices.
"There are now worldwide over 400 international standard outlet centers offering more than 5,000 brands," says Chris Milliken, co-founder and director of United Kingdom-based Freeport Retail, which partnered with local company Cathay Land Inc. on Acienda Designer Outlet. "Outlet is an established and mainstream retail channel that works for brands, retailers and, of course, the consumers. Since we started back in 1992, Freeport has developed many Outlets throughout Europe."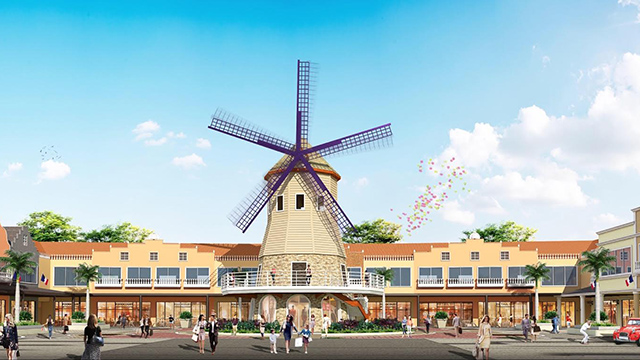 Artist's rendition of Acienda Designer Outlet Mall, with a 40-meter windmall as main feature
Acienda Designer Outlet is located along the Aguinaldo Highway about five minutes north of the Tagaytay Rotunda. It will have approximately 20,000 square meters of commercial space, enough for about 100 brands all facing a landscaped and weatherproof pedestrian plaza. Around 25 restaurants, cafés and bars are expected to open around a performance plaza. There will also be provision for over 1,400 free parking spaces.
The main attraction is a 40-meter tall French windmill, which project owners hope will be an Instagram-worthy feature of the complex.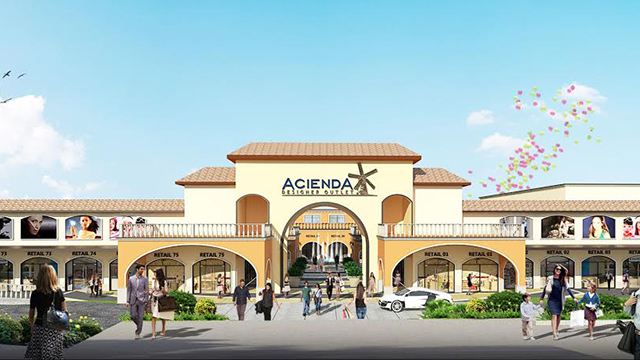 Acienda Deigner Outlet will have about 100 shops and bout 25 restaurants, bars and food outlets
The partner firms have invested some Php2.5 billion into the project. They expect to attract a huge chunk of the three million foreign and local tourists that visit Tagaytay City annually.
"There is a large customer base in Metro Manila that have enjoyed high quality Outlet shopping abroad and are keen to have the same opportunity at home," says Jeffrey Ng, president of Cathay Land Inc. "We set out to deliver something truly different and memorable with a look and feel that is unique to the Philippines which will draw customers back time and time again."
Ng says they are so confident of the success of Acienda Designer Outlet that they are already identifying strategic locations for their second Outlet mall, which they hope to open within the next three years.
"We provide something for everyone at our centers—from high-end fashion to sports, gifts and affordable fashion," says Milliken. "Everyone is looking for a good deal and almost all the retail groups in the market will be represented. On average we see over 90 percent of visitors to our centers making a purchase, which is several times higher than at conventional malls."
This story originally appeared on
Entrepreneur.com.ph
. Minor edits have been made by the Fhm.com.ph editors.