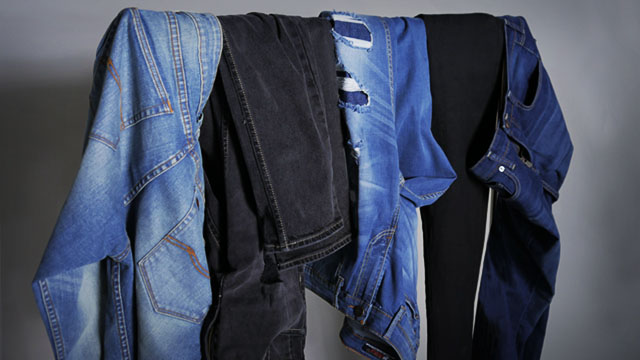 If guys were made to choose only one type of pants to wear for the rest of their lives, most would probably pick a pair of denim jeans. We get it, though. Denim jeans are comfortable, durable, and wearable with almost anything. And while you can actually get away with using the same pair for going on a date, hanging out with your buddies, and casual Friday at work, it'll be better for your style game if you have several in rotation for different occasions.
Have some party whites
A crisp pair of white denim is not something you'd wear every day out of practicality, because it gets dirty so easily. It is, however, one of the strongest statements you can make with what you're wearing. Break out some white jeans for a party and look great under the lights. You can go for a white top, or create contrast with something in a bright hue, or even something printed. Another option: pair it with a classic blue denim jacket.
Stripes for smart dates
Stripes are more often seen on trousers and shorts but they go well on denim, too. Prepping for a hot date? Pair your striped jeans with a collared shirt and look dressy instantly.

Striped denim is a laid-back tribute to uniforms and formal tuxedos. Let it work sartorial wonders while you stay comfy.
Travel in black
Heading someplace where everyday style matters? Pack some black denim. Use it for a classic black and white outfit that'll be appropriate for any kind of photo. You'll want to look sleek for travel grams, and black won't easily show dirt you've picked up during stopovers.
Deep blue casual Fridays
Relaxed dress codes ought to be exploited, but you probably don't want the human resources department to regret giving you the freedom to come in casual attire.  Save the ripped and faded denim for the bros, and opt for a solid pair in deep indigo for the workplace. It goes well with anything (even pink, as you can see) and the shade epitomizes the true spirit of denim.
Skinny whenever you need to feel like a rockstar
Even if you're no rockstar, you can't help but feel slick when you're wearing skintight jeans. Pair it with a comfortable breathable shirt and classic high tops to complete your devil-may-care look.

These are just some of the looks you can try with different styles of denim. Check out the RRJ website or their Facebook page for more style staples and info.
Disclaimer: Product design and availability may vary.