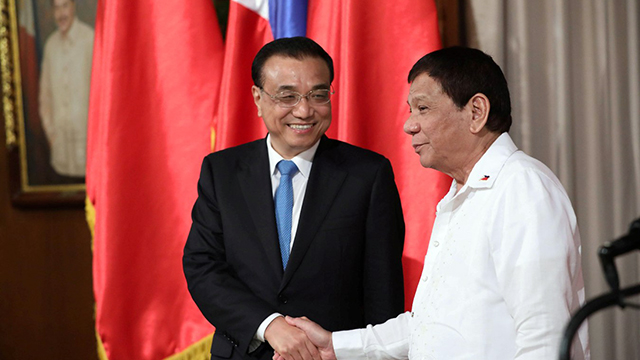 President Rodrigo Duterte had offered China the "privilege" to operate the country's third telecommunications carrier, Presidential Spokesperson Harry Roque Jr. announced last Monday.
In a news release published by the Presidential Communications Operations Office dated November 20, Roque revealed that President Duterte had made the offer to Chinese Premier Li Keqiang during bilateral talks last week. While no specific Chinese company was mentioned to take the mantle, such a move is seen to be beneficial for improving the internet quality of the country.
"President Duterte offered to the People's Republic of China the privilege to operate the third telecom's carrier in the country," said Roque in the news release. He also mentioned that all applications for a third carrier will be processed directly by the Office of the Executive Secretary.
The entry of a third player is seen to end the country's telco duopoly currently held by PLDT Inc. and Globe Telecom. Such a situation has been criticized as the reason for the poor internet infrastructure of the country, which Roque believes will be solved by a third telco carrier.
"Consumers can look forward now to better telecommunications, not just in terms of cellular technology, but also in terms of internet speed as well as access," said Roque in the news release.
The Philippines has consistently ranked in the bottom of various reports that measure global internet speed and availability. Mobile operator analyst OpenSignal pegged the Philippines' mobile internet speed at 8.24 Mbps for Q3 2017, making it the fourth slowest among the 77 countries in the report and the slowest in Southeast Asia. While mobile internet availability slightly improved for the country quarter-on-quarter, the Philippines still had the least accessible mobile networks in Southeast Asia.
Similarly, content delivery network provider Akamai Technologies said that the average internet speed of the Philippines was 5.5 Mbps for the first quarter of 2017. That made it the slowest of the 15 Asian countries included in the survey, although it noted that it was also the most improved in terms of quarter-on-quarter change.

This story originally appeared on Entrepreneur.com.ph.
*Minor edits have been made by the FHM.com.ph editors.